Main content
Living together: What 10 classic novels tell us about society
From Miss Jean Brodie to the original 'angry young man', Arthur Seaton, these ten novels tackle class and society by looking at the lives of others and how we must live together. Above all, it's a list of great characters, including Kazuo Ishiguro's loyal butler Stevens, in Remains of the Day, and Bertha Mason, Jane Eyre's 'madwoman in the attic', given a voice at last in Jean Rhys's Wide Sargasso Sea.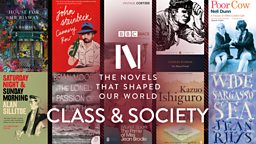 The panel of The Novels That Shaped Our World have chosen these novels on the theme of Class and Society:
A House for Mr Biswas by V. S. Naipaul; Cannery Row by John Steinbeck; Disgrace by J.M. Coetzee; Our Mutual Friend by Charles Dickens; Poor Cow by Nell Dunn; Saturday Night and Sunday Morning by Alan Sillitoe; The Lonely Passion of Judith Hearne by Brian Moore; The Prime of Miss Jean Brodie by Muriel Spark; The Remains of the Day by Kazuo Ishiguro; Wide Sargasso Sea by Jean Rhys;
The Novels Survey
Get personalised book recommendations and help us complete the largest ever survey of English literature.
A House for Mr Biswas by V. S. Naipaul, 1961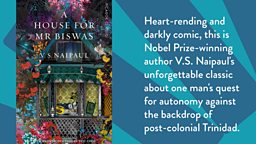 Heart-rending and darkly comic, this is Nobel Prize-winning author V.S Naipaul's unforgettable classic about one man's quest for autonomy against the backdrop of post-colonial Trinidad.
Book Club Questions
1. In what ways does Mr Biswas' birth prophecy of a life of bad luck come true?
2. What role does writing play in determining his fate?
3. What does owning his own house represent for Mr Biswas? Is the experience what he expected? Are there wider social parallels to his story?
More on this book
Harriet Gilbert and an audience of World Service listeners engage with the novelist on World Book Club.

Professor Homi Bhabha of Harvard University, who has studied Naipaul for over 40 years, gives his thoughts on the tension between the beauty of Naipaul's writing and the questionable views he expressed.
He will go down as one of the greatest writers of our time... He was a scourge of anyone who used a cliché or an un-thought out sentence. He was very scrupulous about his writing.

Travel writer Paul Theroux
Cannery Row by John Steinbeck, 1945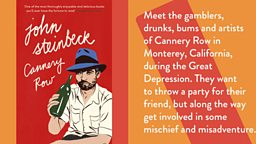 Meet the gamblers, drunks, bums and artists of Cannery Row in Monterey, California, during the Great Depression. They want to throw a party for their friend, but along the way get involved in some mischief and misadventure.
Book Club Questions
1. What does Steinbeck mean in the first line, when he describes Cannery Row as a 'poem'?
2. What are your impressions of the characters in the novel? What do you think Steinbeck thought of them?
3. How would you describe the novel to someone else? What do you think it is about?
More on this book
Jane Smiley reports from "Steinbeck Country" where the great writer lived, and which featured in his books.

John Steinbeck is remembered for works like The Grapes of Wrath and Of Mice and Men that highlighted the plight of the 'Okies' - poor rural migrant workers during the Great Depression.
Writing is hard work. It is gathering ten times as much material as can ever be used. This information has to be gleaned to get the best possible use from it. The reader has to be convinced that the writer knows what he is writing about.

John Steinbeck, 1948
Disgrace by J.M. Coetzee, 1999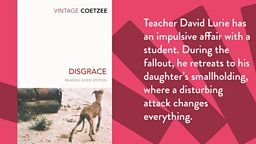 Teacher David Lurie has an impulsive affair with a student. During the fallout, he retreats to his daughter's smallholding, where a disturbing attack changes everything.
Book Club Questions
1. How does the novel depict racial tensions in post-apartheid South Africa?
2. What do dogs symbolise in the novel, and why are they significant?
3. Why does Coetzee choose to write only from David's point of view? How does it affect or limit the reader's understanding of what happens?
More on this book
Novelist Justin Cartwright provides a guide to South African writer JM Coetzee, including his Booker Prize-winning novel Disgrace. (Interview begins 18'25'')

Harriett Gilbert presents a discussion on how Coetzee's novel Disgrace addresses sex and politics in post-Apartheid South Africa.
Disgrace is an allegory. It is also, paradoxically, a novel of harsh, documentary realism... It is a chilling read, taut as a drumskin. A far cry from the narrative exuberance of Salman Rushdie or Roddy Doyle, it raises the question of what the Booker is about.

Booker Prize judges, 1999
Our Mutual Friend by Charles Dickens, 1865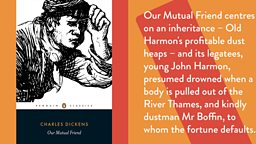 Our Mutual Friend centres on an inheritance – Old Harmon's profitable dust heaps – and its legatees, young John Harmon, presumed drowned when a body is pulled out of the River Thames, and kindly dustman Mr Boffin, to whom the fortune defaults.
Book Club Questions
1. In Our Mutual Friend, Dickens is firing a warning about the allure and peril of money. How do the cast of characters represent this?
2. What is the role of Jenny Wren, the child doll-maker? What marks her out from other children – is she a child of her time, or would we recognise her in the 21st century?
3. There is a lot of 'Podsnappery' in this novel – consider what defines this in the novel and discuss how this would be exhibited in 2020.
More on this book
Dickens's final novel depicts a world obsessed with money, with cash obtained from huge dust heaps and from corpses fished from the Thames. (Image: still from the 1998 BBC adaptation).

Charles Dickens was a close observer of human nature who found endless interest in the theatre of ordinary life.
Dickens voiced a code which was and on the whole still is believed in, even by people who violate it. It is difficult otherwise to explain why he could be both read by working people (a thing that has happened to no other novelist of his stature) and buried in Westminster Abbey.

George Orwell, 1939
Poor Cow by Nell Dunn, 1967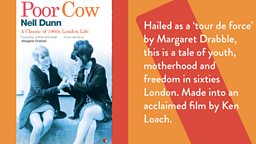 Hailed as a 'tour de force' by Margaret Drabble, this is a tale of youth, motherhood and freedom in sixties London. Made into an acclaimed film by Ken Loach.
Book Club Questions
1. What do you think the impact of this book would have been when it was published in the late 1960s?
2. How dependent is Joy on the men in her life? Do you see her as a feminist?
3. Why do you think that the author uses a mix of first and third person in the narrative?
More on this book
Nell Dunn talks about her screenplay for Ken Loach's ground-breaking drama Poor Cow, which won the Palme D'Or at the 2016 Cannes Film Festival.

Nell Dunn discusses the impact of her Battersea and Fulham-set novels with fellow author Margaret Drabble and Women's Hour presenter Jenni Murray.
I like the narrative quality [the working class] have of talking about their lives, the story-telling and their humour. I'm tremendously influenced by Carry On films which I find terribly, terribly funny.

Nell Dunn, 2003
Saturday Night and Sunday Morning by Alan Sillitoe, 1958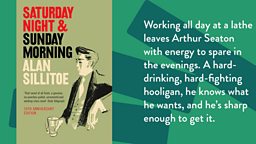 Working all day at a lathe leaves Arthur Seaton with energy to spare in the evenings. A hard-drinking, hard-fighting hooligan, he knows what he wants, and he's sharp enough to get it.
Book Club Questions
1. This novel is generally accepted as one of the 'Angry Young Man' generation novels dealing with the working-class experience. Do you think that things have changed in the past 50 years?
2. Arthur is 22, and thinks that life is passing him by. The Second World War has only been over for around 15 years. How do you think his story compares with a 22 year-old in 2020
3. Does Arthur succeed in his plan to 'have a good life and not care about anything'?
More on this book
The opening of Alan Sillitoe's classic novel, read by Joel MacCormack.

Simon Heffer reveals how Alan Sillitoe's novel was turned into a film, starring Albert Finney as the anti-hero Arthur Seaton.
If anyone should be able to edit their own life it's a writer, so I'm happy to rewrite my history. Anything to make the story more fun and interesting.

Alan Sillitoe, 2008
The Lonely Passion of Judith Hearne by Brian Moore, 1955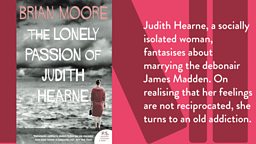 Judith Hearne, a socially isolated woman, fantasises about marrying the debonair James Madden. On realising that her feelings are not reciprocated, she turns to an old addiction.
Book Club Questions
1. What does the novel tell us about the expectations and roles of women in society at the time? To what extent has it changed?
2. How does the author explore faith and the role of religion in society? Is the setting of the novel significant?
3. How are the characters in the book affected by their class?
More on this book
The BBC News obituary of author Brian Moore, who died in 1999, also said his "dark musings were among the first novels to closely examine the postwar Irish experience".
I was very lonely, I had almost no friends, I'd given up my beliefs, was earning no money and I didn't see much of a future. So I could identify with a dipsomaniac, isolated spinster.

Brian Moore
The Prime of Miss Jean Brodie by Muriel Spark, 1961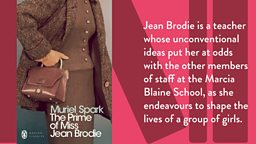 Jean Brodie is a teacher whose unconventional ideas put her at odds with the other members of staff at the Marcia Blaine School, as she endeavours to shape the lives of a group of girls.
Book Club Questions
1. The novel is set in the 1930s and Jean Brodie has lost her fiancé in the First World War. To what extent does this influence her behaviour in the book?
2. What is Miss Brodie's 'prime' and how does she use it to manipulate others and to justify her actions?
3. To Miss Brodie, education is 'a leading out of what is already there in the pupil's soul'. Is she successful in this type of education? And how does it affect the different members of the Brodie set?
More on this book
Cerys Matthews heads up Edinburgh's Waverley Steps on the trail of Muriel Spark's unconventional teacher from her celebrated novel, The Prime of Miss Jean Brodie.

Spark's friend Alan Taylor lists ten surprising things about the crème de la crème of 20th century novelists, including the inspirational teacher behind Miss Brodie.
I think that a teacher and a classrom is pure theatre... It succeeds or doesn't succeed on that basis... that scene is taken away by the child forever. I grew up with certain scenes in my mind, and that's how I came to be authentic with Miss Brodie.

Muriel Spark on Bookclub, 2004
The Remains of the Day by Kazuo Ishiguro, 1989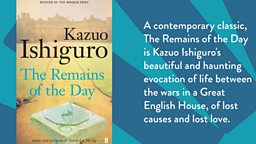 A contemporary classic, The Remains of the Day is Kazuo Ishiguro's beautiful and haunting evocation of life between the wars in a Great English House, of lost causes and lost love.
Book Club Questions
1. Stevens has been called an unreliable narrator. Do you agree with this? How does his attitude toward class impact his ability to depict the events of the novel objectively?
2. How do the author's descriptions of the landscape signify class structures in the novel?
3. How is emotional restraint presented as a signifier of being part of upper class society?
More on this book
James Naughtie talks to Kazuo Ishiguro about his novel detailing a butler's life below stairs, and so much more.

Mark Lawson looks back at Kazuo Ishiguro's lengthy literary career on the occasion of the publication of The Buried Giant in 2015.
I quite like the idea of starting off with someone who appears unsympathetic, and then we see the humanity beneath... I think something has been gained when we move towards, not liking someone, but understanding them.

Kazuo Ishiguro on Bookclub, 2002
Wide Sargasso Sea by Jean Rhys, 1966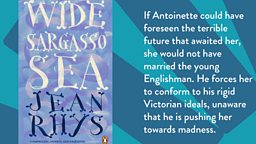 If Antoinette could have foreseen the terrible future that awaited her, she would not have married the young Englishman. He forces her to conform to his rigid Victorian ideals, unaware that he is pushing her towards madness.
Book Club Questions
1. How does the book portray the differences between England and the Caribbean?
2. The looking glass is a recurring motif in the book. What do you think it symbolises?
3. What did you learn about the way society was structured in the 1830s/40s Caribbean? How did social class and race interact?
More on this book
Sarah Dillon explores the stories behind Jean Rhys's classic, published 27 years after her previous work in 1966 when the author was in her 70s.

Hephzibah Anderson explains Wide Sargasso Sea's enduring power and its ability to turn Brontë's Jane Eyre inside out.
Reading makes immigrants of us all. It takes us away from home, but more important it finds homes for us everywhere.

Jean Rhys

Book Club Questions on Class and Society
To round off our 10 novels in the Class and Society theme, here are five stimulating questions to ponder. And below, to continue exploring, try our further reading suggestions.
1. What do you think can be gained from reading novels about different class struggles?
2. How can reading novels about the lives of ordinary people during specific historical events teach us about the past?
3. How does class intersect with other issues, such as race and gender?
4. Choose a novel from the list that you have read. If this was set in the 21st century, how would the story translate to contemporary society?
5. Do you think that in order to write about a particular social class or issue, the author has to have experienced it themselves?
More novels exploring Class and Society
What a Carve Up! by Jonathan Coe
David Copperfield by Charles Dickens
North and South by Elizabeth Gaskell
The Ragged Trousered Philanthropists by Robert Tressell
The Little Stranger by Sarah Waters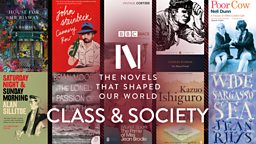 Get Involved
Show us a book (or books) you love using the hashtag #mybooklife
Brilliant books content on BBC iPlayer
Looking at class in all its shapes and sizes, from all sides of the class divide, in the UK, USA and India

Gillian Wearing's experimental film, made up of a diverse cast of people, celebrate the legacy of the Victorian author

In this classic interview from 1994, Jeremy Isaacs talks to Maya Angelou about her life, her writing and her hopes for the future