Main content
Gillian Burke's Blue Planet UK highlights
Were you amazed by Blue Planet Live? Don't forget the UK's coast is full of wonders too!
Scroll down to read some of Blue Planet UK and Springwatch presenter Gillian's top picks...
Megafauna
The UK has over 20 species of large, spectacular marine life, including several whale and dolphin species.
But a favourite of mine, is the basking shark! The second largest shark species in the world, it reaches up to 8m in length. However, despite its size, this gentle giant feeds on plankton and can be seen in coastal waters from mid-summer to the autumn. It is incredible to think that this species, and other marine megafauna, make UK waters their home.
In Blue Planet UK we are celebrating these species, as well as highlighting the conservation efforts being used to protect them.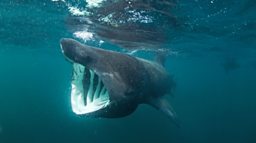 A basking shark filter feeding
St Abbs marine reserve
This picture-perfect fishing village on the Scottish east coast is our base for part of the Blue Planet UK filming.
A gateway to some of the best diving in the country, with unusually clear water, it also boasts towering sea cliffs that come alive with seabird colonies in the spring. The water may be cold but it is rich in marine life. It is possible to take trips, some with a 360-degree underwater camera rig, to get up close and personal with this underwater world.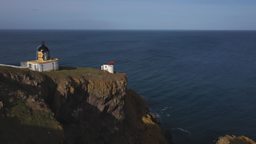 The St Abbs lighthouse
Britain's very own coral reefs
British coral reefs may come as a surprise but, lying off the Hebridean coast on underwater seamounts and ridges like Mingaley, Rockall and Logachev, cold-water reefs occur at astonishing depths of up to 1500m deep! Like cities under the sea, they provide rich feeding and nursery grounds for a huge diversity of fish and invertebrate life.
While in an unlikely locale of South London, scientists are using a patch of Australia's Great Barrier Reef to make ground-breaking discoveries. They've cracked the code of the sun and lunar cycles that corals use to time their mass spawning events.
A world first, this research behind the scenes at the Horniman Museum's aquarium, now has corals spawning in laboratory conditions. It's work that could help coral reefs become more resistant to the effects of rising sea temperatures and climate change.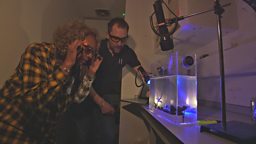 Gillian examining coral in Blue Planet UK
Isles of Scilly
Wild swimming with seals off Britain's most south westerly islands is just one of the many magical moments these island gems, set in azure blue seas, have to offer.
These islands are home to a variety of sea birds, from shearwaters to razorbills but also rare vagrants too. One of the last outposts before the great wide-open Atlantic Ocean!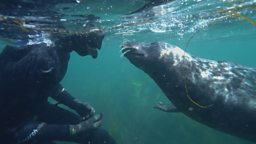 Seal watch in the Isles of Scilly
Watch Gillian on Blue Planet UK
Monday 25– Friday 29 March at 4:30pm on BBC One.
Blue Planet Live will air on Sunday 24 March 2019 at 8pm on BBC One, followed by episode two on Wednesday 27 March, episode three on Thursday 28 March and episode four on Sunday 31 March.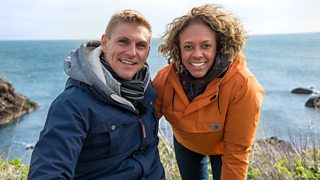 Blue Planet UK and Blue Planet Live are part of the BBC's environmental strand, Our Planet Matters.