Main content
Roasted Winter Sprout Curry
Tom Kerridge's new book Fresh Start features recipes for home cooks who want to stop eating ready meals and takeaways and start cooking from scratch using fresh ingredients. Tom encourages families to cook together and play around with new flavours.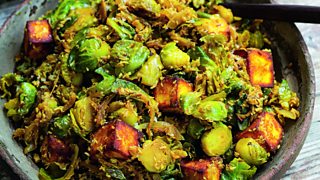 This is a fantastic way of getting people to eat Brussels sprouts, even if they claim not to like them. It's such a full-flavoured dish that it also works well as a side on Christmas day with roast turkey. As a midweek winter meal, serve the curry with rice and parathas or flatbreads, or naans.
Serves 4
660 calories per serving
975 calories with raita and paratha
800g Brussels sprouts, halved
1 tbsp caraway seeds
1 tbsp cumin seeds
1 tbsp ground turmeric
2 tbsp ground coriander
3 tbsp vegetable oil
2 onions, thinly sliced
4 garlic cloves, sliced
2 long green chillies, thinly sliced and deseeded
500ml vegetable stock
100g desiccated coconut, toasted
A handful of coriander, finely chopped
50g flaked almonds, toasted
Sea salt and freshly ground black pepper
For the paneer
1 tsp vegetable oil
225g paneer, cut into cubes
½ tsp ground turmeric
To serve
Parathas, ready-made (optional)
Raita (page 172, optional)
1 In a large bowl, toss the sprouts with the whole and ground spices and season with salt and pepper.
2 Heat half the oil in a large saucepan over a high heat, add the onions and cook for 5–10 minutes or until they are starting to brown. Add the remaining oil with the garlic and chillies and cook for 1 minute.
3 Toss in the sprouts and stir-fry for 2–3 minutes. Pour in the vegetable stock, bring to a gentle simmer and cook for 10–15 minutes, stirring a few times.
4 Meanwhile, to cook the paneer, heat the 1 tsp oil in a non-stick frying pan over a medium-high heat. Add the paneer, sprinkle with the turmeric and a pinch of salt and toss the pan to coat the paneer in the seasoning. Cook for 4–5 minutes, tossing the pan regularly, until the cubes are browned all over.
5 When the sprouts are tender, stir through the paneer and coconut. Taste and adjust the seasoning if necessary, then toss through the chopped coriander and toasted almonds. Serve at once, with parathas and raita if you like.