Main content
What's in style in Scotland's homes of the year
Fabulous design details from some of Scotland's stylish and unique homes.

In a brand new series of Scotland's Home of the Year architect, Michael Angus, interior designer, Anna Campbell-Jones and lifestyle blogger, Kate Spiers, explore amazing houses across the country.

They've toured Scotland from coast to coast and along the way they've discovered many homes with a style all of their own. These are just some of the eye-catching design details they've uncovered on their travels.

A striking ceiling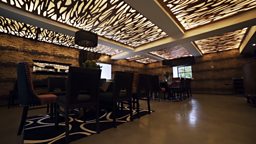 The judges discovered a grand dining room in a converted grain mill in Eyemouth. Not only did the enormous dimensions of the former mill allow for twice the amount of tables normally found in such a room, but the trio couldn't help but notice its striking carved ceiling.
A 'bondage tweed' cushion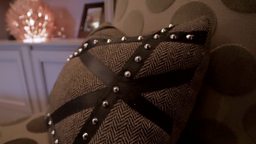 A redeveloped former church manse in Brechin oozed sophistication but also included a number of and quirky individual touches. Anna was particularly taken by the style of this playful cushion in a cosy sitting area, which she dubbed 'bondage tweed'.
A relaxing rotunda
The façade of an apartment in Glasgow's west end hides an extraordinary period renovation. Judges were astonished to discover this grand yet calming seating area within.
Nautical chic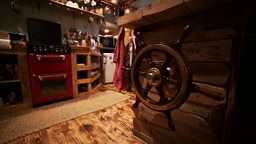 The judges explored a tiny cottage in the Orkney town of Stromness which bears witness to its owners' maritime family history. Space saving devices similar to those found on ships have been incorporated into the design, while found driftwood has been lovingly included in the décor. The ship's wheel in the kitchen also nods to the nautical theme.
Retro walls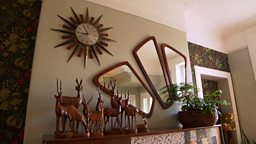 A peek inside this Dunfermline semi revealed a unique collection of up-cycled furniture with a strong 1970s theme. Solid furniture highlights the era's quality workmanship, while funky mirrors and retro wooden ornaments help to add to the cosy nature of this family home.
Landscape colours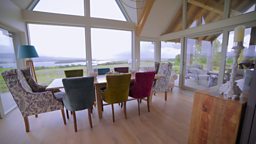 Adding a glass front to a renovated home in the Highlands caused a design headache for its owners, who discovered that the bold colours they favoured in previous apartments just wouldn't work against the soft palette of the Scottish landscape. Their decision to create a décor of muted tones with occasional pops of bright colours help to ease the eye from inside to outside.
Over-sized accessories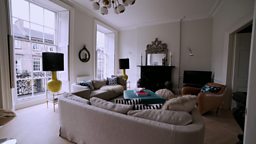 A sophisticated Edinburgh townhouse exuded sophistication, but in period homes such as this, what works best to fill the voluminous space? Here, the judges noted that the owners opted for over-sized items, such as large lamps and an enormous ottoman.
A wooden bath
A luxurious and beautiful wooden bath took the judges by surprise in one Oban home. Free standing baths are a feature of many houses in the series but the tub taking centre place in the bathroom of this seaside home was a first for both Michael and Kate.
A seat with a view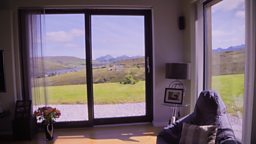 Of course, as this home on the Isle of Skye demonstrates, sometimes in Scotland the best possible design feature a house could have is seat beside a large window to soak up the stunning views.
On BBC iPlayer
Three property experts scour the country on the hunt for Scotland's Home of the Year.
Latest features from BBC Scotland
Alicia MacDonald on her dramatic coastguard helicopter delivery.

Why men must be open about their mental health.

Seven financial tips for students starting university.

Inside the Zoo goes inside Edinburgh Zoo and The Highland Wildlife Park in Kingussie.

Experts believe we should begin saving for retirement as soon as possible.

One host reveals how she has benefited from giving shelter to refugees.

The comedian discusses her harrowing upbringing in a Stark Talk podcast.

Angel investors help to create an 'echo effect' encouraging entrepreneurs.

Beatrice Jones recalls painful memories in a bid to help others understand loss.

A traditional pre-wedding ritual is said to reveal the extent of her love.

Edi Stark takes us on a journey through some of her classic archive interviews.