Main content
The Weeknd makes his Live Lounge debut and it's pretty special
Who, what and when is 'The Weeknd'?
In 2011 the world was introduced to Abel Tesfaye; a (then) unidentifiable 21 year old singer, songwriter and producer calling himself The Weeknd.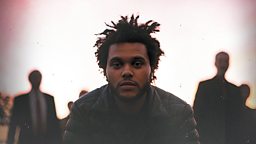 In February (2011) three songs were uploaded to a YouTube channel with the username xoxxxoooxo and by December, The Weeknd (the 'e' was dropped to differentiate between the Canadian band of the same name) had released three mixtapes to global critical acclaim.
Most notably, he was becoming recognised as marking the next chapter in RnB for his unconventional take on the genre from song structure to instrumentation and lyrical content.
OVO and XO
Known for consistenly showing love to artists from his hometown of Toronto, Drizzy and his crew OVO were instrumental in spreading the word about The Weeknd and his music.
OVO and XO (The Weeknd's squad) have been collaborating since 2011, perhaps most notably on the song Crew Love from Drake's second album Take Care.
Trilogy, Kiss Land & Collaborations
In 2012 the Trilogy album was released (containing all three mixtapes plus three new songs), and the following year his debut album Kiss Land.
Since then he's gone on to work with all of your favourites including Kanye West, Pharrell, Taylor Swift, Florence + The Machine, Ed Sheeran and Disclosure.
The Weeknd has also been featured on film soundtracks including The Hunger Games and most recently Fifty Shades of Grey with the super smooth, Earned It.
2012 saw The Weeknd perform on UK TV for the first time on Later... with Jools Holland, as well as being voted onto the BBC's Sound of 2013.
Record making and breaking
2015 has truly been the year of The Weeknd and has him well on the way to becoming a household name, with his recently released second album Beauty Behind the Madness reaching no.1 on the Canadian, US and UK album charts.
Can't Feel My Face and The Hills gave him his two US number 1s, and he is the first artist ever to hold all top 3 spots on the US Billboard's Hot R&B chart.