Main content
Gospel Singer of the Year
Launch of Gospel Singer of the Year 2020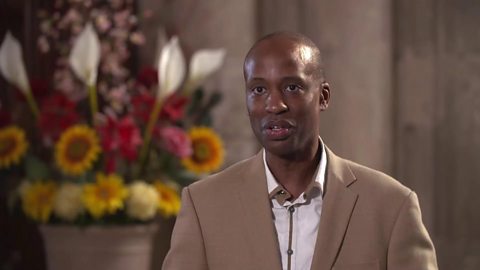 Ken Burton encourages soloists to enter the Gospel Singer of the Year competition.
The competition has now closed. The below information is for reference only.
The competition is now open for entries, so if you're 17 or over and you love to sing gospel music, this could be your chance to shine!
We are searching for the best amateur Gospel singer in the UK. The closing date is 26th July 2020 so don't delay.
Five semi-finalists will be chosen to appear in our televised finals where they will each sing in front of a panel of celebrity judges and TV cameras. Three singers will then progress to the final where one will be chosen to become the Songs of Praise Gospel Singer of the Year.
Both the semi-final and the final will take place on the same day in Manchester on either 17th or 18th September 2020. Due to the government restrictions on social distancing the finals will be recorded without a live audience.
The winner will receive The Gospel Singer of the Year trophy and £1,000 to be spent in progressing their singing career. E.g. on a recording studio session.
How To Enter
To apply you'll need to fill in the entry form telling us why you want to enter the competition.
Make simple videos of yourself singing two gospel songs. There's no need for specialist equipment, they can be recorded on a smart phone, tablet, laptop or camera. Remember to film in landscape not portrait. Here's our Recording Tips and Guidelines.
Song One
All entrants must sing the set song, Amazing Grace. You can download the track to accompany you, play it via the website, or record yourself singing unaccompanied.
Amazing Grace downloadable track To download, click on the three dots to the right of the player
Amazing Grace lyrics
Song Two
For the second video you can sing your choice of a gospel song, contemporary or traditional, based on the Christian faith. The song must be a published.
• Upload your two songs and submit your entry.
All applications must be received by midnight on 26th July 2020
Any questions please email: sopcompetitions@avantimedia.tv
Entry Pack and Terms and Conditions
Entry Form
Amazing Grace Backing Track To download, click on the three dots to the right of the player
Amazing Grace lyrics
Recording Tips and Guidelines
Terms and Conditions
FAQs
Privacy Notice