Main content
The Make a Difference Awards - BBC Three Counties Radio
Entries are now closed
In the last few months communities across the three counties have witnessed shining examples of kindness.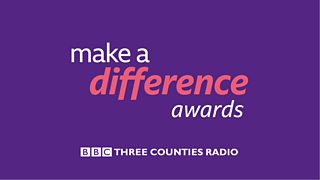 Celebrating the people of Beds Herts and Bucks

BBC Three Counties Radio
From individuals doing the shopping for strangers to whole towns coming together to support their neighbours. BBC Three Counties Radio is celebrating those people through our Make a Difference Awards.
If you know someone who has done something outstanding to help others, you can nominate them in one of the 10 categories below.
How to enter
Entries are now closed.
Entries opened at 08:00 on Monday 29 June 2020 and closed at 23:59 on Friday 21 August 2020. Entries received outside of these dates will not be considered.
Winners will be announced on air and online throughout the week from Monday 21 Sept 2020. Click here to read our full privacy notice and terms and conditions (.pdf)
Categories
Health Care

Recognising the men and women of the NHS for whom going to work is often a matter of life and death. This is your chance to say thank you to those people who came to your rescue in your time of greatest need. Or for people in the NHS to recognise an exceptional friend or colleague. They don't have to be clinical staff; they could be among the many thousands of support workers who make a crucial contribution to the NHS.
Social Care

This is for professional or volunteer carers who have gone the extra mile to ensure those in their care have continued to get the best possible support, despite the difficult circumstances. Or for someone who has shown exceptional dedication to their caring role at any time in the last 12 months.
Young Achiever

We're looking for a young person (under 18 on 21 August 2020) who has made an outstanding contribution to their community or achieved something great against the odds. It could be specifically related to the Coronavirus pandemic but doesn't have to be.
Good Neighbour

This category is for an individual or group that helps make your neighbourhood a better place to live, particularly now. This could be through an exceptional single act of kindness or a consistent effort to ensure that local people have a better quality of life.
Fundraiser

This award is for an individual or group who has shown exceptional commitment to raise funds for a charity or good cause. It could be because they have met an ambitious fundraising target or because they go above and beyond the call of duty to raise money.
Volunteer

Many organisations rely on the work of volunteers, no more so than now. But do you know an outstanding volunteer or group of volunteers who give much of their time to help others or who have volunteered for a long time? This is your chance to recognise them.
Education

Nurseries, schools and colleges have been at the front line during the Coronavirus pandemic. But is there one member of staff that has been an outstanding ambassador for their profession? If so, now is your chance to recognise them in this category.
Faith

Faith groups have gone the extra mile to support those in need at this time. Whether it's places of worship doing online services or delivering meals to people in need, this award recognises an individual or organisation from a recognised faith group which has gone beyond the call of duty to support others.
Emergency services

This award is for the blue light services who put the needs of others ahead of their own every day. But is there one person who has excelled in this area and deserves recognition? This is your chance to say thank you.
Corona Hero

There are many thousands of people in Beds, Herts and Bucks whose work is crucial to the well-being of the nation at the moment. Whether they work in supermarkets, deliver mail and parcels or drive lorries, if they are your corona hero you can nominate them here.