Main content
Why Volunteer?
Ok, so there's the good karma. But volunteering can give you so much more. Here are some reasons to pledge your time and make a difference.
It's great for your CV...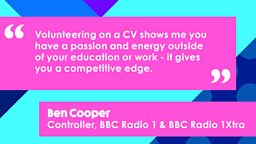 It's tough out there in the working world, but a volunteering placement could help. Doing something outside your studies/work and social life shows initiative and really enhances your CV to help you stand out from the crowd for the right reasons.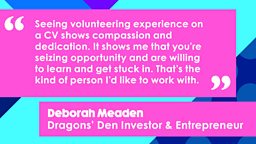 No, Really!

The skills you can pick up and the experience you gain are all transferable to your career - especially if you volunteer in a role directly related to your chosen path. Take a look at our guide to help you make the most of your placement.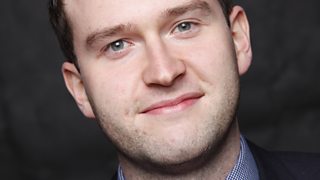 Volunteering helped Ben move forward with his career

For 26-year-old drama teacher Ben, volunteering got him a big step closer to where he wanted to be.
"For me, volunteering was the only way to get into a teacher-training course. You need to have a minimum of two weeks experience with young people in a classroom along with as much other experience outside of the classroom as possible.
"I volunteered with the army cadets as an adult instructor. It helped me get used to writing lessons, leading sessions and working with pupils.
"Without my time there I would not have been confident enough to get up on day one of teacher training and lead sessions. I also highly doubt my applications to begin training would have been paid much attention.
"It was hard to manage around my full time work, but it was highly rewarding at the time and has also allowed me to work in the industry I have wanted to be part of for so many years."
Meet new peeps

You'll have the chance to meet some great people who are passionate about the same things as you. Plus getting stuck into a project and making a difference as a team can really bring people together and form strong relationships. Who knows, you might even meet someone who turns out to be more than a friend…


It strengthens communities

There's a lot going on in the world at the moment and your own life can throw a lot at you too. From what we see on the news, to exam stresses, moving house or jobs, unemployment, bereavement or just having a bad day – it can leave us feeling helpless. Giving your time to charity and helping those who need it the most will connect people and help to build a support network and a community. These small acts really can make a huge difference to people's lives – including yours!
It can improve your health

The Institute for Voluntary Research has found that volunteering can help reduce stress levels and depression, and have a positive impact on your relationships, your self-esteem, your longevity and keep you fitter. Sounds pretty good to us! See the full report here.


You can pick up some life skills

Meeting new people, working as part of a team, building your confidence, self-esteem, motivation and developing leadership skills are just a few of the things you can get out of a volunteering placement!
Unsure about what you want to do in life? Volunteering could give you the inspiration and direction you need by trying out something new.
It matters, and so do you!

You'll see the difference you're making, even with just an hour of your time. Maybe you'll gain some perspective on life and learn something new about the world or about yourself.
This page was created with the help of the below organisations. Follow the links to find out more about what they do.
The BBC is not responsible for the content of external sites.