Main content
History Of The Proms
The Proms celebrated its 123rd season in 2017 yet still remains true to its original aim: to present the widest range of music, performed to the highest standards, to large audiences.
The Proms and the BBC at 90
It is 90 years since the BBC took over the Proms, and from the first broadcast concert of 1927, the UK has enjoyed a wide range of music, both ancient and modern. Our new timeline explores the BBC's ongoing relationship with a very British institution.
Visit the Proms performance archive, containing details of all concerts since 1895
Sir Henry Wood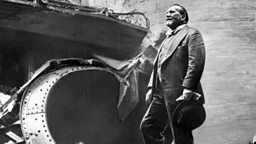 Sir Henry Wood surveys the bomb damage after an air raid destroys the Queen's Hall, 1941
Listen to programmes about the lives and works of some of the greatest classical composers.