Main content
Thanks for the mammaries: Why one woman threw a farewell party for her breasts
A Falkirk woman chose an unusual method of preparing for a double mastectomy — she threw a party for her breasts.
Last summer Lynsey Ritchie was diagnosed with breast cancer after discovering a lump in her armpit. But while the news was initially devastating, she has chosen to view her condition as positively as possible.
Speaking on Mornings with Kaye Adams she explained, "I would never have wished for breast cancer, but it has changed my life and I'm actually a lot happier and contented since my diagnosis".
An appointment at her local Maggie's Centre helped Lynsey reassess her initial view of cancer as beng "a death sentence". They advised her to think of her condition differently.
"[They said] you need to treat it like diabetes or epilepsy; people die from it but also people live with it."
Lynsey opted to have a double mastectomy and a few days before her operation in December, she decided to mark the occasion with a very special party.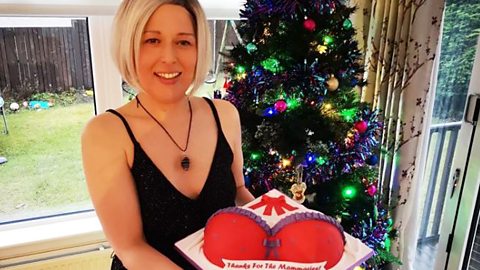 Lynsey Ritchie explains why she threw a party before having a double mastectomy.
Lynsey gathered her friends and family for a party in honour of her breasts.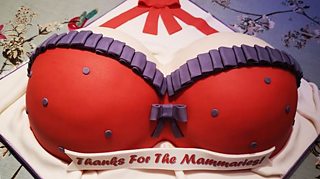 Lynsey's cake was a highlight of the night
She explained, "I've breast fed my four children, I donated my breast milk for premature babies and I also helped mums as an NHS breast feeding peer supporter, so I feel, on the whole, over 42 years my boobs have done more than most people.

"I felt like it was only fitting to give them a celebration, a send-off to say thank you for giving me this wake up call.
"I try and look for the positives in everything because there always is a positive you've just sometimes got to look a wee bit harder to find it."
A highlight of the party was a specially made cake in the shape of bra-clad breasts emblazoned with the words, 'Thanks for the mammaries'.
"It was hilarious," laughs Lynsey. "They were actually bigger than my boobs, so I was a bit jealous!"
Latest features from BBC Scotland