Main content
Weird and wonderful traditions that are gaining popularity
The UK has always had its fair share of unusual customs and odd age-old events. But with many rural and civic traditions dying out in the digital age, which ones are still going strong – and what's new? We take a look at some of the ancient customs currently enjoying a renaissance, as well as a few recent traditions that look set to become firmly established.
1. 'First look' wedding photos
Weddings may be steeped in tradition, but there's one new trend that's threatening to rewrite the old rules. 'First look' photoshoots – where the bride and groom meet before the wedding to have their reactions to each other's nuptial outfits caught on camera – are all the rage among millennials.
Traditionally, it's been seen as bad luck for the groom to see the bride before the wedding. But there's good reason to ditch this outdated custom: it's thought to come from a time when marriages were mostly arranged, and fathers were sometimes wary of the groom seeing their daughter in advance of the altar in case he backed out.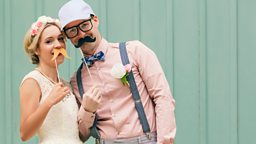 2. Newent Onion Fayre
Newent's annual onion-based extravaganza has its heritage in the 13th Century, when the town – then called Noent – was first granted two annual fayres by Henry III. Five hundred years later, the September fayre had evolved into a popular onion-trading event, but when war broke out in the early 20th Century it faded into obsolescence. Then, in 1996, a group of local people revived the ancient onion-themed festival and it's since gone from strength to strength.
Today, the show features not only onions, but also leeks, garlic and chives, and attracts almost 15,000 people each year. Arguably, its highlight is the eye-watering onion eating competition, which sees entrants race to consume an onion the size of an apple in the quickest possible time. In 2012, Phil Bullock, consumed one of the pungent orbs in just one minute and six seconds. Check out the Newent Onion Fayre website for more pictures.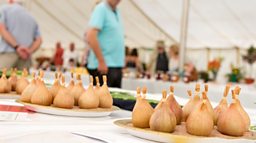 How do you like them onions?
3. Nursery graduations
Graduation is no longer the preserve of the university leaver – nurseries are now in on it too. In recent years, the popularity of 'graduation ceremonies' for four- and five-year-olds has soared, making it a new academic tradition. To mark their finishing nursery and being ready to start school, children are dressed in tiny gowns and mini mortar boards and presented with certificates in front of their proud parents. It's become so popular that the company Marston Robing now sells 10,000 pre-school graduation robes a year, all shipped in from America where the custom has been going for years.
4. Cooper's Hill Cheese Rolling
Despite the council shutting down the Cooper's Hill cheese rolling competiton due to health and safety fears in 2010, this risky and ridiculous event still goes ahead each year unofficially. Participants in the terrifying races chase an eight-pound double Gloucester cheese down an exceptionally steep hill, slipping, bouncing and often somersaulting out of control, in the hope of being first to the bottom.
The centuries old tradition has been made famous in recent years through videos of death-defying races being broadcast by news crews and posted on YouTube. And while it may look like chaos, there's clearly some technique involved since 2018's men's winner, Chris Anderson, has racked up 22 cheese-chasing triumphs over 14 years. Listen to the On Your Farm on cheese-rolling.
A festival of steep hills, cheese and plenty of injuries.
5. Glitzy school proms
Another imported American tradition is the end-of-school prom, which has grown hugely in popularity and scale in recent years. A 2016 survey revealed that around 85% of British secondary schools now hold a prom for school leavers in the last four weeks of the summer, and the average cost of an outfit is £102. The spending doesn't end there: girls shell out an average of £63 to get their hair done and £35 on make-up, and one in six young people arrive at the event in a limousine.
Grace Dent presents a programme about a tailor in Weston-super-Mare facing prom season.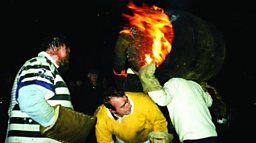 Don't try this at home.
7. The Wye Float
In 2017, a potential new tradition took off in a river in Herefordshire: the Wye Float. Inspired by the Finnish river festival Kaljakellunta – or 'beer floating', this inland aquatic affair involves large numbers of people floating down the river on inflatables. But while the Wye event is strictly non-alcoholic, it attracts a similarly silly array of watercraft – including giant flamingos, air-filled unicorns, blow-up paddling pools and even inflatable pizza slices.
The inaugural float inspired 600 people to take to the water and garnered glowing reviews, so it looks likely to balloon to an even bigger size in 2018. More information on the river and music festival is available here.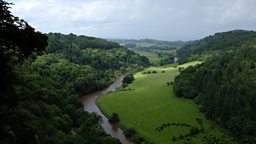 The River Wye, looking north from Herefordshire, near the border with Gloucestershire and Monmouthshire, Wales.
Meet the farmer who makes the cheese used in one of Britain's most eccentric traditions.

Life lessons of happiness to learn how you can hack your happiness back.

There is a fascinating relationship between tunes and taste buds.