Main content
Elaine Miller's comedy show at the Edinburgh Fringe is toilet humour …with a public service spin
Elaine Miller is on a mission to help women who suffer from stress incontinence.
Elaine's advice for a perfect pelvic floor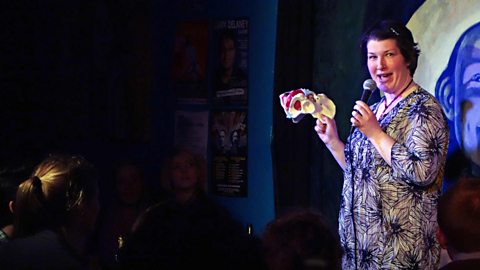 "We won't pee with a 10-10-3" Elaine Miller reminds us how to engage our pelvic floor.
Latest features from BBC Scotland
Singer sewing machines are used to train young women in Ghana to sew and make clothes.

When playing at doctors and nurses becomes a significant part of your hospital treatment.

Life coach Natalie Costa teaches youngsters how to manage their emotions.

Comic reveals how a red hot deadline for a ten minute filler turned into a career.

Beauty vlogger Jamie Genevieve has storage problems just like the rest of us.

Friends Rachel and Amy met while being treated in a hospital ward.

Is playing I Spy the best way to get through long journeys?

18-year-old Liam Byrne from Stonehaven is making a name for himself as a wingsuit flyer.

Gangsters? Hoodlums? Or movie stars?

Joy Dunlop will head up Scotland's entry in Eurovision Choir 2019.

Insider's Guide's tips for cities and towns worth a visit during your Scottish holiday.