Main content
Food Waste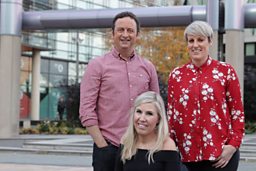 BBC Watchdog Live discovered that the majority of branches of coffee chains Costa, Starbucks and Caffè Nero throw unsold food away at the end of the day rather than give it to good causes. We called 20 branches each of Costa Coffee, Starbucks, Caffè Nero, Greggs and Pret. Out of 100 stores contacted, 53 said they throw left over food away at the end of the day. All of these were branches of Costa Coffee, Starbucks and Caffe Nero. All 20 Pret stores gave leftover food to charity, and 19/20 Greggs stores said it was either given to good causes or sent back to the business for recycling. Prue Leith presented the segment. She said she thinks food waste is "a scandal" and that some food businesses need to do much better.
Costa Coffee statement:
"Costa Coffee is committed to reducing waste and looks to minimise food surplus where possible with a highly efficient ordering system and 50% discount on food sold during the last hours of trading that is in date but can no longer be sold in store. Our food donation guidelines allow our store teams to donate any food surplus left to charities that are feeding people that evening. It is important to note that Costa Coffee products can only be marked down in price or donated on the day they expire, due to health and safety restrictions and we are unable to donate to charities who store the food overnight and donate the following day.
Watchdog's investigation shows that we must do more to re-communicate to our stores our food donation guidelines and review what we can do to potentially simplify the process. This work has already started, and we hope to see an increase in stores supporting local charities and food bank going forward."
Caffe Nero statement:
"At Caffe Nero, managing and reducing food waste is something we take very seriously. We have a target to reduce our food waste by up to 10% over the course of the next year and aim to do so by a combination of limiting the amount of waste we produce in the first instance through accurate sales forecasting and stock control, and through collaboration with charities and organisations who are willing and able to help us redistribute the small amounts of usable food waste each of our stores does produce.
We have signed the governments 'Step up to the plate' pledge, and we will continue to work with all our stores to ensure we reduce our waste as much as possible."
Starbucks statement:
"Limiting food waste from our stores is something we've been focused on for a number of years. We have put a number of effective measures in place in our supply chain and in our store operations to reduce food surplus as much as we can. In the past 18 months, we've reduced food waste from our stores by a third by carefully monitoring our stock ordering process so that storesdo not over-order, and as a result we have seen a significant reduction in unsold food being left at the end of the day. To further ensure we aren't wasting food, during the last hour of trading, any food nearing expiry is sold at a 50% discount. The sale of each item is donated to Action Against Hunger to fund projects helping malnourished children. We launched the programme with Action Against Hunger in 2017 in 350 of our company-operated stores and will be expanding the partnership to hundreds more stores in September. We also work with a number of local foodbanks in several regions around Britain and have donated over 500 bags of dried food, as well as supporting these organisations with our store teams volunteering over 100 hours in the past few months alone."