Main content
Come and Play events with Making Music
If you're a lapsed player, Come and Play events - hosted by our partner Making Music's members - are a great way to connect and play along with other people who share your passion for music-making.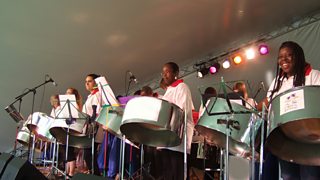 Making Music group The Melodians Steel Orchestra
Here's where you can be part of a Come and Play event this summer. Contact the groups holding the events for more information.
Tuesday 13 and 20 September - Guildford Symphony Orchestra Open Rehearsal
7.30pm, Queen Eleanor's School, Guildford, GU2 7SD
These are Play for Pleasure rehearsals – players interested in joining the GSO, or those just fancying a busk for fun, are very welcome to attend.
Sunday September 25 - Amati Orchestra Open Rehearsal
From 2pm, Sunday September 25th, St James' Church Sussex Gardens W2 3UD
The Amati Orchestra aims to become one of London's leading amateur orchestras. The repertoire will include a rehearsal on Elgar Enigma Variations, Beethoven Symphony No 7, Grieg Piano Concerto, and Mozart Clarinet Concerto. This will be followed by socialising at The Dickens, a pub just around the corner from the venue.
Contact info@amatiorchestra.co.uk in advance if you would like to take part.


Saturday October 1 - Brilliant Beethoven: Come & Try
Dance Space at Cast, 12pm to 4pm, Doncaster
Honk on a horn, flutter on a flute, fiddle with a fiddle. If you ever fancied having a go on an instrument, now's your chance. Whatever your age, no previous experience required and you don't need to be able to read music. Experts from Doncaster Music Service will be on hand to help.
Book a space here.
Saturday October 1 - Brilliant Beethoven: Scratch Choir
Dance Space at Cast, 2.30pm-3.30pm, Main Space (rehearsal - all ages and abilites welcome), Doncaster

3.45pm, Performance, Foyer, Free
Local singers are invited to join our festival scratch choir and choral director Luke Mather to rehearse and perform one of Beethoven's choral masterpieces and one of his forays into a more surprising genre.
Contact Tracy on 0114 2814660, tracy@musicintheround.co.uk
Date TBC, Loxley Silver Band (Sheffield)
Contact Stuart Young for more information.
Wherever you are, whatever your level, Get Playing and join our nationwide community of music makers.

Making Music provides advice, support and resources for amateur musicians and music groups across the UK.