Main content
About Why Poverty?
Find out more about the Why Poverty? series
The BBC, working with more than 70 broadcasters around the world, is hosting a debate about contemporary poverty with Why Poverty? – a set of ground-breaking international documentaries screening from November.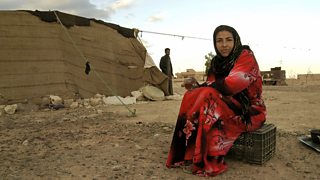 The global cross-media event, produced in partnership with The Open University, will see the same eight films screened in 180 countries to explore why, in the 21st Century, a billion people still live in poverty.
From a behind-the-scenes look at Bob Geldof and Bono's 30-year campaign and the moving story of illiterate women becoming solar engineers, to films exploring the impact of multinationals in Zambia and the privatisation of education in China, the series will give expression to a diverse range of voices from around the world and kickstart a new debate about contemporary poverty.
BBC Four will be the main home of Why Poverty?, screening seven documentaries over two weeks, while the series will launch on BBC One with Four Born Every Second – a lyrical and sobering look at childbirth and infant mortality around the world.
 "BBC Four already has a strong track record of broadcasting international films via the Storyville strand, and we're pleased to be taking part in this global cross-media event which will get UK audiences thinking about contemporary poverty in new ways," said Richard Klein, BBC Four Controller.
 "Why Poverty? aims to create a global conversation about poverty and I'm very proud that Storyville, working with broadcasters from around the world, has been able to find and commission such a wide range of thought-provoking and deeply engaging films about a subject that concerns the whole world," said Nick Fraser, Commissioning Editor, Storyville.
Read Nick Fraser on the About the BBC Blog: Global broadcasters in partnership ask 'WHY POVERTY?'
Programmes
How the wealthiest Americans spend their money and how the poorest Americans are shut out.

Poor people through the ages, beginning in Neolithic times and up to the present.

Farmers struggle against businessmen in a contemporary battle over who controls land.