Main content
Why are sea shanties trending on social media?
13 January 2020
Folk music is going viral on social media in lockdown with a craze for sea shanties dominating TikTok, the video-sharing social media platform beloved by Generation Z.
The #seashanty hashtag has been around since mid-2020 but started to gain momentum from late December, when TikTokker Nathan Evans posted a 60s clip of himself singing a harmonised cover of a 19th-century New Zealand whaling song.
Since Nathan's Wellerman cover went viral, the 26-year-old from Airdrie in Lanarkshire has gained hundreds of thousands of new followers - many of whom requested he post more folk music covers. A subsequent shanty, Drunken Sailor, racked up nearly 2m views in just five days.
Nathan appeared on BBC Radio 3's In Tune with an exclusive first play of his full-length cover of The Wellerman. Key worker Nathan, who works as a postman, told Sean Rafferty that he started posting music videos shortly after the first lockdown in 2020.
"I did one sea shanty back in July, and then the requests just kept coming in after that," he said. He plans to keep the ball rolling with the release of a five-track acoustic sea shanty EP, including the full-length version of The Wellerman we heard on In Tune.
Nathan hopes that music will become a full-time job for him one day - and sees sea shanties as a way forward. "A sea shanty brings everybody together," he said. "Anybody can join in: you don't need to be able to sing to join in. The songs are are very simple, always upbeat and they're quite catchy - I think it's all that combined that brings everybody together into it."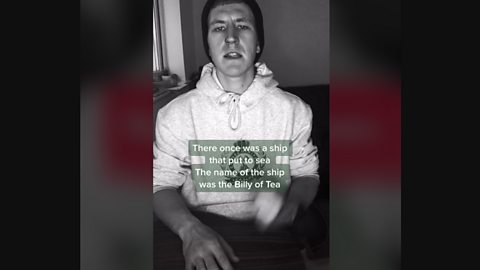 Meet TikTokker Nathan Evans with an exclusive first play of his full-length Wellerman EP.
Hear Nathan Evans in conversation with Sean Rafferty on BBC Radio 3's In Tune.
Nathan's performance of The Wellerman has spread like wildfire across multiple social media platforms including TikTok, Twitter, Instagram and YouTube. Hundreds of social media users have been inspired to duet along with his original video - and with other duets, adding multiple extra layers of harmony and instrumentation. There has even been an #electroshanty remix.
Sea Shanty TikTok (or "Pirate TikTok", as some users have dubbed it) is now a genuine online phenomenon, with millions of people viewing and sharing videos tagged #seashanty across social media. Hundreds of users have extended the trend further still by posting their own original folk song covers and inviting other users to duet along.
What is a Wellerman?
Soon may the Wellerman come, to bring us sugar and tea and rum.
One day when the tonguin' is done, we'll take our leave and go...
Soon May The Wellerman Come is a 19th-century whaling song from New Zealand. The Wellerman of the chorus derives from the name of the real-life Weller Bros, a company whose agents ("Wellermen") supplied provisions to remote whaling stations around the coast of New Zealand. Meanwhile, "tonguing" was the process of butchering whales on shore after they had been caught and killed. The second line of the chorus therefore looks forward to a time when the whalers can give up their lives of isolation, hardship and danger.
The combination of the song's jaunty, earwormy chorus, together with the promise of eventual relief from isolation, has proved a potent mix for lockdown times.
More folk music from around the BBC
Live music from the world's finest classical, jazz, folk and world musicians. If it's happening in the world of music, you'll hear it first on In Tune.

Mark Radcliffe explores traditional and contemporary folk and acoustic music from around the UK and the world.

Folk singer Martin Carthy explores the mystery and emotional ties of the folk song Scarborough Fair.