Main content
Unleash your inner Van Gogh
The Visual Arts is a phrase which covers many aspects of creativity but is primarily about engaging with other people's perspectives on life: focusing a spotlight on objects or people and saying look at this and think about it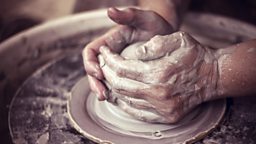 Looking and creating things helps us understand our place in the world and explores our experiences of life in a unique way. Philosophers and writers do this with words, artists do it with images and objects, adding imagination and self expression.
How people express this through the visual arts happens in all sorts of exciting ways – some are simply visual like drawing, painting, sculpture, film, animation, art photography, typography and calligraphy, while other ways are spatial, for example architecture, fashion, product and interior design. A key factor is that art is created by people for other people to experience, enjoy, think about and try to understand another perspective.
Studying art will teach you about the techniques of using line, colour, texture and form. But when you look at the work of artists, you can develop a historical understanding and cultural perspective too. For example, Picasso's 'Guernica' and Van Gogh's 'Sunflowers' have become popular and recognisable expressions of complex emotions, from the experience of ageing to the horrors of war to the pleasure we take in the natural world.
Put simply, art shapes our thinking and our lives and makes internal experiences external. So if your artistic muscles have never been flexed, isn't it time you gave them a workout?
Visit Museum Crush, the national guide to galleries, museums and heritage sites to find out about exhibitions, classes and workshops in your local area. So if you fancy yourself as the next Damien Hirst or Barbara Hepworth, this is the place to get started…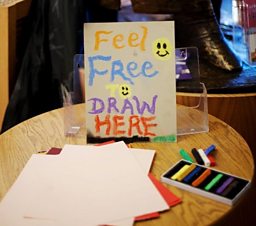 | Why get into visual arts? | Can it be inexpensive? | Is there a family option? |
| --- | --- | --- |
| Viewing art and developing an understanding of it is a fantastic way to learn about the world, as it tells us so much about the people themselves, their lives, thoughts, feelings and the world they lived or live in. | We can all lay our hands on a pencil and piece of paper. There's no need to hit the art shop for materials unless you want to take things further. | Why not find a family friendly event in your local art gallery or simply get family members or friends to draw or paint each other? If you like the results, put them on display and start your very own portrait gallery! |
What would you like to try?
Drawing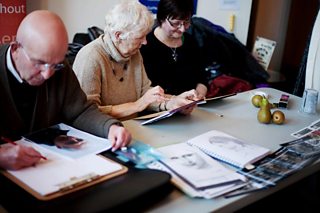 Art shapes our thinking and our lives and makes internal experiences external
Drawing is how virtually every artwork starts, whatever form it eventually takes. When you train in art, one of the first things you might do is an exercise where you turn a picture upside down and try and copy it.
That's because our eyes play tricks and we think we are seeing what we expect to see – it's all to do with the fact that with human visual perception a lot is done by memory. Don't be daunted, remember to give drawing a go all you need is a pencil and paper. If you're drawing an apple and it all goes pear-shaped, just rub it out, or screw up the paper and start again. Or try figure drawing, roping in a friend to pose until you feel ready for a group art class.
Pints and poses
Ian Blandford, London: For a few months now I've been going to a weekly art class, above my local pub. I grew up in a kind physics and mechanics-based household, and in terms of qualifications that is the direction I initially went in. I never followed an artistic path until I settled in my career which is now in a creative industry - I coach people in how to present on TV.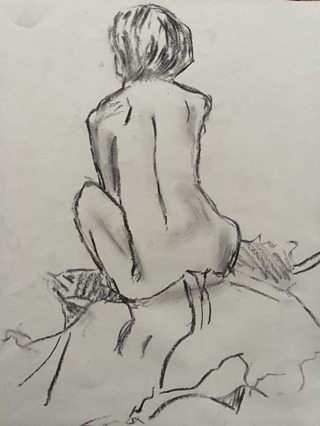 For that time, once a week, I don't think about anything else, just what I am trying to draw
Looking back I think it would have been lovely to go and do an art degree but I never did. Until now the only time I might pick up a pencil and paper is if we are on holiday, then I might sit down and sketch a building or something.
I'd walked past the pub many times then one time I just bit the bullet and went along, slightly terrified that the class would be full of all these arty people and I would look like a complete chump.
We'll sit down, give each other a friendly nod, then someone turns up and takes their kit off and we spend the two hours drawing them in various poses. It's a lovely thing to do.
Like it is for a lot of people, life is busy. I've got kids, both of us work full time and this is a brilliant escape. By that I mean it's a great way to switch off. Some people chant, some meditate, and sitting down doing this has exactly the same effect for me. I find it quite restorative, and a precious opportunity. For that time, once a week, I don't think about anything else, just what I am trying to draw - however badly!
Painting
One great thing about painting is the way its different styles, and materials, allow you to get creative whatever your skill level. Watercolour is a good starting point, as it's a medium with which we all grow up. However there's plenty more on offer, with pastels, acrylics and oils just waiting to be tried. And if figurative painting feels beyond reach, concentrate on textures, shapes and colours and go abstract. Child or adult, there's great fun to be had unleashing your inner Jackson Pollock for a bit of drip painting. Just give yourself space so your artwork is only a permanent exhibit if it's meant to be.
Sculpture
If two dimensions just aren't enough for you, maybe sculpture is your thing. Don't be put off if the thought of chipping away at a hunk of rock with a chisel sounds intimidating. Some sculpture is made by adding rather than taking away – i.e. moulding with materials such as clay. And don't feel limited to using traditional materials - one of Pablo Picasso's most famous sculptures included bicycle parts. Some sculptors use objects they find around the place so why not combine your creativity with a bit of recycling?
Just as painters may practice an idea on paper before hitting the canvas, some sculptors do preliminary versions of artworks – maquettes – in unfired clay or even plasticine.
Ceramics
The word ceramics comes from the Greek for pottery, but it's an art form that's been practiced all over the world for thousands of years. Decorating ceramics has seen a resurgence in recent years with the popularity of pottery cafes as a venue for children's parties. Pottery wheels aren't cheap, so why not join a class and see if clay's the way you're going to make your mark as an artist?
Printing
Printing is a really good way to investigate your art capabilities, as it offers numerous options, depending how technical you wish to get. Historically, the major techniques involved are woodcut, line engraving, etching, lithography, and screenprinting but there are many others, including modern digital techniques. To make art many say you should get back in touch with your playful inner child, so why not try potato printing, with or without your actual children. Then there's lino-cutting. If you decide that printing is for you and are prepared to spend a little money on materials, have a go at screenprinting, with which young and older artists can have great results.
Calligraphy
Calligraphy – the art of producing decorative script - can create beautiful results, and as an introduction to finding your artistic voice, might appeal to those not inclined to wield a paintbrush. The principal tools for a calligrapher are the pen, which may be flat-balled or round-nibbed, and the brush. For some decorative purposes, multi-nibbed pens—steel brushes—can be used. However you can create calligraphy with the kind of materials in every home, such as a felt-tip and ballpoint pen.
Colour, composition and cut outs
If all our descriptions of the art forms you could try still leave you doubting your abilities, why not get the feel for creating art by reaching for the scissors and playing around with colour, composition and cut outs? Cutting out shapes from coloured card and then composing them into a picture can produce really pleasing results, and teach you about subjects such as perspective. Get some inspiration from the Henri Matisse. In his late sixties, when ill health first prevented Matisse from painting, he began to cut into painted paper with scissors to make drafts for a number of commissions. In time, Matisse chose cut-outs over painting: he had invented a new medium. From snowflowers to dancers, circus scenes and a famous snail, the artworks Matisse created were bold, exuberant and often large in scale, with an engaging simplicity coupled with incredible creative sophistication.
Signwriting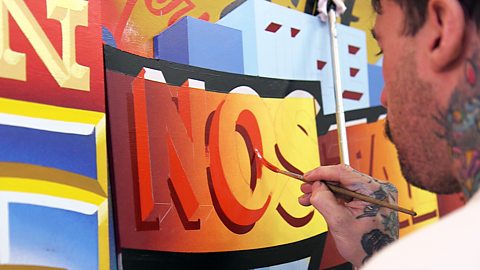 An artist and graphic designer who uses traditional signwriting tools and techniques.
Risograph printing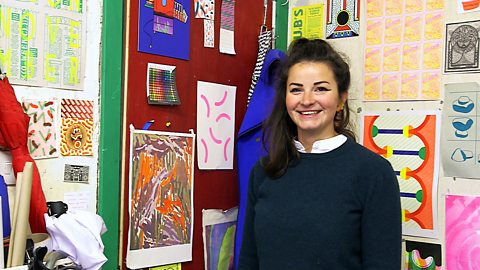 An artist and designer who uses a Risograph printer to produce eye-catching graphics.
More paintings from BBC Arts