Main content
Ballet's rising star Francesca Hayward's 'Fred Step'
Ballerina Francesca Hayward, currently the subject of much critical praise, made her debut in The Royal Ballet's Rhapsody, choreographed by Sir Frederick Ashton in 1980, aged 21. Here, seen in mesmerising slow-motion, she gives an exclusive performance of Ashton's signature sequence.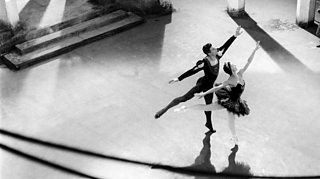 Michael Somes & Margot Fonteyn perform Swan Lake for BBC Television in 1954
In a series of authored Ashton appreciations for "Ballet Annual" in 1960, Michael Somes added a note about this "signature step" that occurs in every Ashton ballet:
"Not many people who have watched and loved his work over many years realise that this step has become an Ashton tradition.
"Even when a new work is completed, room must somewhere be found for it in one form or another…. [It] has become dear to all of us who have had the privilege of working with Frederick Ashton. For us, it is a symbol of the reverence and the high esteem that we have for him."
Michael Soames was a principal dancer at The Royal Ballet, frequently partnering Margot Fonteyn, and assistant director of the company under Ashton from 1963-70.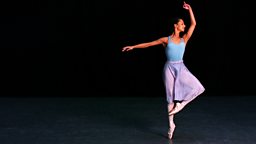 Francesca Hayward
Filming in slow-motion
The film team used a specialist slow motion camera called the Phantom V640
When filming at 750 frames per second this camera can record up to 6 seconds of action
This meant Francesca had to repeat the action around 30 times
A lot of lighting is required for slow motion...
The Royal Ballet's Clore studio has an atrium in the ceiling that allows a flood of natural light into the room
Two powerful lighting kits provided additional illumination - they required three battery changes over two hours of filming
More Francesca Hayward and the 'Fred Step'
More Frederick Ashton
In an exclusive BBC Arts film, friends and fellow professionals pay tribute and share insights into Sir Frederick Ashton and his work.

Dancer, writer and broadcaster Deborah Bull spent twenty years with The Royal Ballet. To mark its season celebrating Ashton, Deborah writes for BBC Arts on his life and work.

Archive tasters of the four featured works in The Royal Ballet's Ashton season: Symphonic Variations, Scènes de ballet, A Month in the Country and Five Brahms Waltzes in the Manner of Isadora Duncan.