Main content
Madonna, Michael Jackson or Prince: Match the mega-star to the surprising fact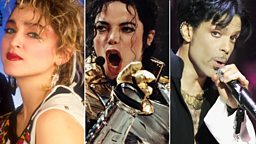 2018 marks 60 years since three of pop's biggest icons were born. Prince and Michael Jackson would both have been 60 this summer (Prince on 7 June and Jackson on 29 August). Meanwhile, Madonna, still the reigning Queen of Pop, celebrated her 60th birthday on 16 August.
To celebrate these milestones, here at Radio 2 we have a special series of programmes, all available to listen to now:
But can you tell which of these outlandish tales belongs to which pop mega-star? Have a go at this fiendishly hard - and eternally fun - quiz.