Main content
Salted Caramel Cookies
Caramel Ingredients: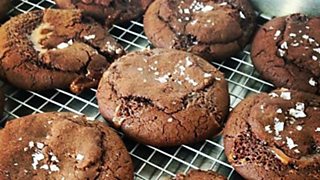 120g caster sugar
90g water
15g butter
6 tbsp double cream
1 tsp vanilla
½ tsp salt
Cookie Ingredients:
50g cocoa powder
¾ tsp baking powder
260g plain flour
110g unsalted butter, softened
350g light brown sugar
2 eggs
sea salt flakes for topping
Method:
1. Make the caramel; heat the water and sugar in a pan over a medium heat without stirring until golden in colour. Remove from the heat and add the butter, swirling to melt. Stir in all remaining ingredients then pour onto a sheet of baking paper to cool. It should be slightly thick.
2. For the cookies; preheat the oven to 195°C/175°C. Line a baking sheet with baking paper.
3. Sieve together all dry ingredients and set aside until needed.
4. Melt the butter then stir in the sugar. Leave to cool slightly before mixing in the eggs. Fold in the dry ingredients to form a soft dough. Leave to rest for 10 mins.
5. Roll equal portions of the dough and place onto the prepared tray. Take off ¼ of each of the dough balls and set aside. Flatten the remaining larger dough ball into a disc and make an indent in the middle. Fill the dent with the caramel then enclose it with the reserved dough. Chill for 20 mins.
6. Sprinkle the cookies with the sea salt before baking for 8-12 mins or until the edges are firm and the caramel is oozing out. Cool on a wire rack before serving.