Main content
12 NEW HORIZONS ARTISTS ANNOUNCED
Today (Monday, February 29), BBC Wales and Arts Council of Wales announced the names of the 12 Welsh artists selected from across Wales to be a part of the Horizons project in its third year. The 12 acts represent the most diverse mix of music since the Horizons project started in 2014.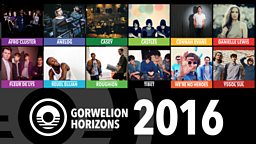 More than 200 artists applied for a place on the project, which is now in its third year. Horizons is a unique showcase of new, independent contemporary music in Wales, supporting and promoting emerging Welsh music talent to wider audiences.

The 12 new Horizons artists are (in alphabetical order):
Afrocluster - Nine-piece funk and hip-hop band from all over Wales

Anelog - Five-piece bilingual psychedelic pop band made up of two families from Denbigh

Casey - Five-piece post-hardcore band from Newport

CaStLeS/ Cestyll - Three-piece band from Rhosgadfan, Gwynedd

Connah Evans - Singer-songwriter from Anglesey

Fleur Dy Lys - Four-piece Welsh-language indie band from Anglesey

Danielle Lewis - Folk-pop singer from New Quay, Ceredigion

Reuel Elijah - Hip hop, R&B, and pop singer from Cardiff

Roughion - Electronic Producers from Aberystwyth

Tibet - Four-piece indie rock band from Cardiff

We're No Heroes - Three-piece indie disco band from Cardiff

Ysgol Sul - Three-piece Welsh-language indie rock band from Carmarthen
Lisa Gwilym, BBC Radio Cymru presenter said:
"What I enjoy most about the Horizons project is the opportunity to get to know 12 artists so much better. To be able to follow their journey over the year – from all the festivals to the famous Maida Vale studios – is extremely exciting. More importantly, to be able to share the music we play every week on C2 BBC Radio Cymru with new audiences around the UK and beyond means the world to me. I can't wait to hear and see the range of music on offer from the Horizons artists this year."

Connah Evans, whose new single joins the BBC Radio Wales' playlist this week said:
"I can't believe that I'm going to be part of Horizons this year! I have applied before but didn't get through so it just shows you never to give up. I am really looking forward to meeting all of the other artists and bands involved from all around Wales, as well as all the amazing show opportunities I may get".

Dion from the band CaStLeS said:
"We're extremely happy to be a part of the project. We've been working very hard on the band over the last two years and it's a good feeling that all our good work is being recognised by a project like Horizons, and we're looking forward to making the most of this support."

The artists will be offered a platform at events across Wales and on BBC Wales' national services - BBC Radio Cymru and BBC Radio Wales - starting with Focus Wales on May 2.

The Horizons acts of 2016 will benefit from:
Exposure across BBC Wales services
Direct contact with a BBC producer overseeing the project
A BBC Maida Vale recording session
Promotional tools including a professional photoshoot
Career mentoring through a music industry development lab
Opportunities to perform at a programme of Welsh festivals/events and BBC Wales events through the year which may be broadcast (subject to BBC's editorial discretion)
Nominations through BBC Introducing to play at major events across the UK
Opportunities for selected bands/artists to perform at international festivals
Horizons - a partnership between BBC Cymru Wales and Arts Council of Wales is now in its third year. It aims to develop new music talent and give artists a platform to reach new audiences. The 12 acts were chosen by a panel of experts from within the partnership and the wider music sector.
The Horizons project will be bringing music to many festivals over summer 2016 and will offer more exciting opportunities to Welsh musicians later in the year. Music fans can follow the Twitter account @horizonscymru for all the latest news.