Main content
Meet the man drawing EVERYTHING in his grandfather's shed
For the past five years, Lee John Phillips has been honouring the memory of his late grandfather Handel Jones… by meticulously drawing everything in his toolshed.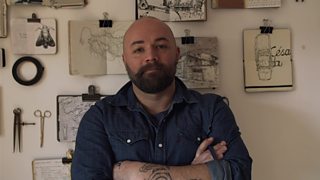 Yet this is not just a shed, it's a shrine.
Over his lifetime, Lee's grandfather curated a collection of thousands of tools, fixings and wonderful widgets in his shed in Aberbargoed. Since his death the shed had been left untouched.
Now, Lee is immortalising Handel's life through intricate pen and ink drawings, which he believes will be a life-long project featuring thousands of illustrations.
Lee, an artist and former art teacher, remembers: "On August 24th, 2013, I wrote: 'I think I may start a tool series. I spent some time in my grandfather's shed: my poor granny wasn't too happy with me poking around in there. So many cool things in there, I didn't have enough eyes. I think it would take me weeks to draw everything in there. It would be a cool project to document everything.'"
In his shed, Lee's grandfather would work tirelessly on projects.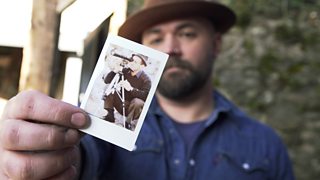 "I have very few memories of it being daytime when he was in the house, it felt like he was always in the shed," Lee says.
"Obviously, it was very strange going into the shed after my grandfather had passed away. To see his watch still on the workbench... his safety glasses…"
Lee is drawing every item by hand, capturing the beauty of the every day in fine detail. And he's only just getting started.
"I've drawn over 7,300 objects and I estimate there to be over 100,000 items in there. It's definitely going to be a life's work" he says.
Though the project will take years to complete, Lee considers it a small sacrifice in memory of his grandfather.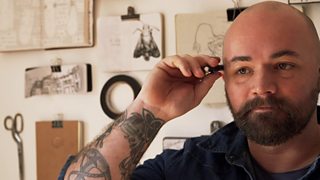 "The patience to salvage and fix things, sadly that's been eroded. So for me it's quite important that I save a little bit of that history.
"I think my grandfather would be impressed by my level of patience and dedication to a particular task. Whether it's drawing his personal items and belongings or something completely unlinked to him and the shed, I think he'd take his hat off to my determination.
"I have had somebody ask me if they could buy the first finished sketchbook. There wouldn't be enough money in the world. I wouldn't let that go!"
More clips from The Slate...