Main content
The Skipping Challenge - #MakeYourMove
Dust off your old skipping rope and do your heart some good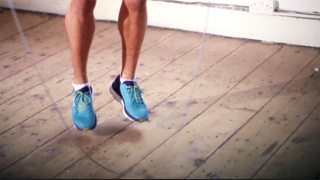 Skipping isn't just for the playground. It's a great way to get your heart racing with a combination of simple moves.
One minute of skipping a day gives you all the health benefits of increasing both your fitness and coordination.
Boxers are big fans of the jump rope to improve their fancy footwork, Rocky Balboa didn't get that good in the ring just by running up stairs.
This challenge will get your feet moving, your head working and your lungs pumping.
Depending on your fitness you should try to skip for at least one minute each day to feel the benefits. Increase this as you start to feel less out of breath each day.
The challenge in a nutshell
| Your | Why |
| --- | --- |
| Aim | To skip rope for a minute working up to 5 minutes (at least). |
| Benefits | Skipping properly uses big and small muscles, and improves good hand-eye coordination. It's all about movement, so you should feel like you're increasing your heart rate and challenging yourself. |
| Goal | As you progress through the steps, see how long you can skip for. For the first ten days, aim to skip continuously for one minute, then increase the time as you start to see your fitness improve. Move onto skipping with one foot and make it more challenging by going faster or lifting your feet higher. |
| Next steps | Increase the time that you skip by two minutes every week. You can also find some longer ropes and get friends involved. When there are more than three of you, you can have multiple people jumping through, progressing to two ropes when you're feeling brave. Remember how good at it you used to be at school? |
Your daily routine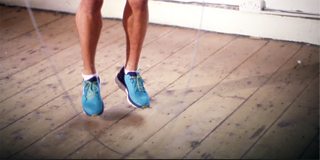 Step 1
Jump over the rope with both feet at a medium pace, bouncing on the balls of your feet
Keep your ankle and knee joints loose to absorb the impact.
Keep it as one fluid movement instead of two small hops.
Increase the speed of the rope using your hands, which increases the speed at which you jump.
Build up to 1 minute in the first 10 days. When you feel comfortable, increase the time to 2 minutes, then 3, then 4 then 5. When you are skipping for 5 minutes move onto Step 2.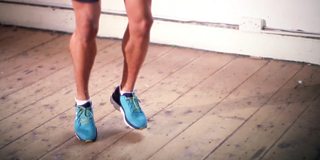 Step 2
Once you feel confident with the rope, it's time to move onto a slightly more difficult technique that will raise your heartbeat even more.
Instead of jumping with both feet, move on to bouncing from one foot to the other.
Time the rope to pass underneath you as you switch feet, almost as if you're jogging on the spot.
Build up to 1 minute in the first few days. When you feel comfortable, increase the time to 2 minutes, then 3, then 4 then 5. When you are skipping for 5 minutes move onto Step 3.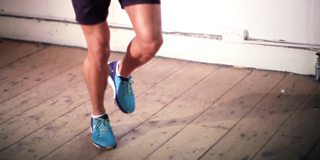 Step 3
Once you're able to skip moving from one foot to the other, see if you can lift your feet higher.
Do this by kicking your heels slightly higher towards your back on each jump.
This should feel you are working your body harder and will feel more intense.
Build up to 5 minutes then move onto Step 4.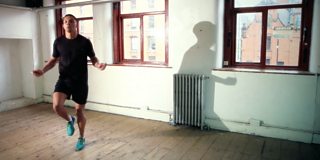 Step 4
Now combine your higher feet with a faster pace to really get your heart pumping and your fitness level up.
If 5 minutes starts to feel easy, keep increasing the time.
Don't forget
Track your results - motivation looks different for everyone, but nothing helps you to see progress like looking back at how much you have achieved.
If you would like to keep a manual diary, print this Skipping tracking sheet and keep notes.
Need more convincing?
If running isn't really your thing and you don't fancy cycling, skipping is a great cardio workout that you can do at home. Even if you are quite active already, skipping is great for cross-training and improving performance.
If you're worried that the repetition will get boring, turn up your tunes and pass the time listening to music. Sing along if you aren't too out of breath!