Main content
WOOOOO! 10 things we learnt when Ric Flair talked to Don't Tell Me The Score
Ric Flair is one of the greatest ever wrestlers. Known as the 'Nature Boy', Ric's career spanned 40 years, during which time he won the World Championship 16 times. After surviving a plane crash in 1975, Ric's larger-than-life alter ego was born. His 'Nature Boy' persona then consumed his life, affecting his family and his finances.
Here are 10 things we learnt when Ric talked to Simon Mundie for the Don't Tell Me The Score podcast...
Ric Flair interview
Ric is rated by many as the greatest wrestler of all time.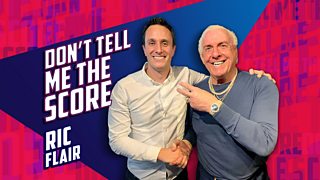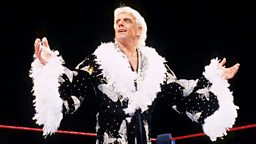 Ric entertains the crowd (Photo: WWE)
1. Ric has a way with words
Wrestling fans loved his trash talking and his now immensely popular catchphrase, "WOOOOO!". Ric says he didn't like to use pre-planned lines and "WOOOOO!" was "just something that happened".
"I actually had a hard time with something that was scripted," says Ric. "This felt better. Especially while I was in front of a live audience. I can feel them breathe. I know what they want."
2. He had a passion for expensive clothes
Ric's adoptive parents were not the types to splash the cash. His dad was a doctor, but they lived a frugal life. Ric couldn't have been more different. Every week, Ric would appear on TV boasting about his expensive suits, his thousand-dollar watches and his reptile-skin shoes.
Ric says, "I had a new suit for TV every week for about five years. I bought over 120 pairs of alligator or lizard shoes too. That's a lot of clothes."
3. Ric enjoyed the perks of his fame
Ric describes himself as a "limousine-riding, jet-flying, son of a gun" and he isn't lying. "I could walk in and pick up a Mercedes and pay for it six months later and drive it off the floor. I had to buy one of my ex-wives one on a forgiveness mission. I could pay for it a month later. I was Ric Flair – I could do whatever I wanted."
4. He nearly quit wrestling because the physical training was too hard
When Ric first started training for wrestling, the physical training overwhelmed him. "On the first day it was running two miles outdoors in 30 degree weather. Then it was 250 push ups, 500 free squats and 200 setups. It took me about six hours to do it all and I couldn't even walk after the free squats!"
He tried to quit, but his coach came to his house, threw him to the floor and demanded he return. Thereafter Ric committed himself fully, although his daily drinking habit got in the way. "I got myself in better shape and then I did 500 free squats every single day. The problem was I didn't go to bed the night before. I'd go from the bar to the gym."
5. Ric survived a plane crash
In October 1975, Ric broke his back when the twin-engine plane he was flying in ran out of fuel. The plane was overweight because there were five big wrestlers on board. The pilot decided to dump some fuel to allow them to fly – a decision that cost him his life.
"The pilot realised he'd hit the point of no return where he should have refuelled, and the engines stalled and we went down and through some trees," says Ric. "We tore an orchard apart and landed like an arrow. The speedometer was stuck on 230 miles an hour! I broke my back in three places."
6. He didn't get much sympathy after the crash
Ric spent six months in hospital after the crash, and was told it was unlikely he would wrestle again. When he was released he was in a back brace but didn't receive the sympathy he was expecting when he turned up at his wrestling HQ.
"The promoter looked at me and said, 'What the hell are you doing wearing that back brace? You're going to atrophy every other muscle in your body. Don't ever wear that thing in here again!'"
Eight months after the plane crash, Ric was back wrestling.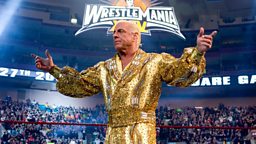 Ric at WrestleMania (Photo: WWE)
7. Ric thinks fans in the UK respect older athletes more than in the States
Ric wrestled for 40 years, from 1972 until 2012. But despite remaining a firm fan favourite throughout his career, he believes American fans are less respectful of older athletes than in Europe.
"In the US, it's sad that the minute something isn't working for you, you're old. Tom Brady is one year from the Super Bowl and being the MVP [Most Valuable Player], and he's now being called an old man. When a soccer player gets older, he becomes revered. That's something I appreciate about Europe, and England especially."
8. His son died from a drugs overdose in 2013
Reid Flair had begun to follow Ric into wrestling, participating in storylines as a teenager with his father and was even signed to a WWE Developmental deal for a short period. But he struggled with drug addiction, and was arrested for heroin possession in 2009. He died in 2013.
"We were very close and I was with him all the time," says Ric. "People gave up on him but I never did. I think to myself, 'God what have I done. I haven't set the example I should have', and I've got to hope I'm not the reason this happened the way it did."
9. Ric has just shared the story of his last conversation with Reid
Ric had just returned from Japan for a few days, and was at hospital where doctors weren't letting him leave because of a blood clot in his leg. "I said, 'I have to leave as my son is only home for a couple of days'," says Ric. "My son sends me a text, saying 'Dad what would this family be. You need to be here for all of us'. And that night he died. I've never told anyone that story, except (my wife) Wendy."
10. His daughter is now a top wrestler
Ashley Flair followed Ric into the business. She's signed to WWE and wrestles under the ring name Charlotte Flair. She was voted the world's top female wrestler in 2016, and was one of the first women to headline WrestleMania, WWE's flagship event. Ric is a proud dad and says she reminds him of himself.
"She wakes up every day wanting to be better, just like I did," he says. "The difference is, I knew how much better I was. Then I started having self-confidence issues. She's never going to have that. I've always taken her and pushed her. I could see this gift. She's got it all and she's tough."
Ric Flair talks to Simon Mundie about the good and bad of letting your profession consume your life.