Main content
Cooking for Poldark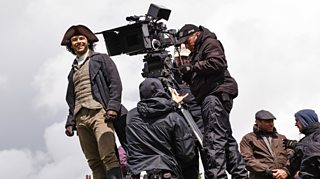 Looking for pilchards? Aidan Turner stars as Ross Poldark.
Radio 4's The Food Programme was given special access on the set of the latest Poldark series to see the effort that goes into recreating the fantastic feasts that marked so many social functions in the Georgian era.
Radio 4 in Four takes a closer look at the food that impressed the cast and crew, as Food Stylist Genevieve Taylor explains the huge set of challenges she faced putting these food scenes together and the tricks she used to get it looking like this...
Feast your eyes on this! The lavish food scene below will feature in episode three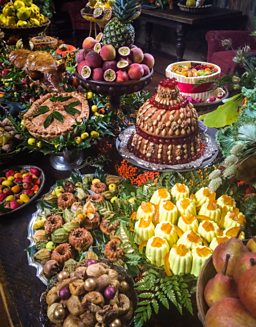 In this photo of a lavish food scene set at Killewarren above, can you spot:
1) The three-tier sponge cake, studded with glace fruit and nuts. This is a very typical cake of the era that Poldark is set in. The decorations on cakes in the late 18th/early 19th centuries featured repeating patterns of arrangements, quite symmetrical.
2) The wobbly little yellow jellies with candied citrus strands on top. Jellies were very common, in all sorts of flavours. These were just made with milk and food dye as I knew they weren't going to get eaten. The candied citrus I brought in, as I tried to make my own and just couldn't get it to be as nice as the stuff you can buy - as I found by trial and error, candying fruit is rather tricky at home!
3) The giant oval savoury pie. Giant pies were made to show-off and represent the wealth of the family hosting. This was a little bit of a cheat as it wasn't going to be eaten, so there was little point wasting money on food that I knew would be cut into and end up in the bin. I took my largest oval baking dish and made it five times as tall by lining with stiff cardboard! I then lined the inside of the cardboard with thick, salty hot water crust pastry and filled with balls of rolled-up newspaper as a mock filling to support it from the inside. Then the top crust went on, decorated with bay leaves, pastry shapes and pink peppercorns. Once the whole thing was baked and cooled I removed it from the dish and brushed it all over with a gelatine glaze to make it super shiny.
This fantastic scene is set in Warleggan House, starring in episode five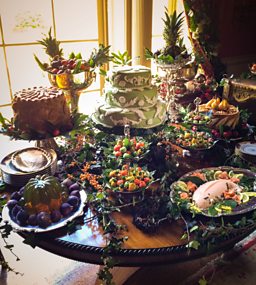 This wonderful scene above is set in Warleggan House. Look out for:
1) Several big moulded jellies in different colours - some of which collapsed and some of which survived. It was a bit of a nightmare watching them collapse in front of my eyes!
2) A blancmange shaped like a pink fish, garnished with smoked salmon and lemons. This also partially collapsed, so I had to hastily arrange the garnished to cover the cracks = more gelatine hell!
3) The huge green and white cake - almost Wedgwood in its styling. A three-tier spectacular that took me about 16-18 hours in total! It's a fake cake: each tier is made of polystyrene, layered with pale green icing. Kneading the colour into the sugar-paste icing was a feat in itself - each tier needed to be identical in shade but there were five kilos of icing to blend with dots of gel food colouring. I got very big muscles from splitting the batch, kneading smaller batches, then working the smaller batches back together, several times over to ensure the colour was completely uniform. Exhausting! Once the cakes' three layers were all iced and stuffed together with many large pins it was time to decorate. The white icing was a kind of hard sugar paste that sets solid on drying. I rolled and pressed it into various silicon moulds (strings of pearls, flowers and swirly bits), using vegetable fat to help line them so I could get it out. Each piece was individually glued into place and held there for a few minutes so it didn't slip as it dried.
4) To the left of the cake is another giant pie. Again a fake one, made from moulding hot water crust pastry around two Quality Street tins that had been glued one on top of the other to give a good height. Lots of pastry decorations as in the other pies, all pinned in place with cocktail sticks as it baked. This pie was so giant it groaned under its own weight in the oven and kept on slumping down as it baked. I ended up propping up the sides with strips of foil rolled into 'ropes' to try and support it. A trouch and go baking experience to say the least...
A close-up of the mighty pear and apple pie from episode five at Warleggan House.
This giant pie was fake inside. It was decorated with caramelised apple slices, and pears that had to be left drying and crystallising for two weeks in a very, very concentrated sugar syrup. Whilst they looked spectacular in the shot they were actually the product of a bit of a failure - I was trying to make wet suckets - a particular type of candied fruit from the 18th Century that are, I found, almost impossible to perfect!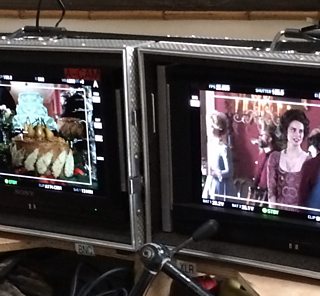 Pear and apple pie in action with Heida Reed as Elizabeth.
Proper wet suckets are almost see-through like glace fruit, but mine just kept getting drier and harder, and more shrivelled, almost like dried fruit, rather than glossy and luscious. (But they do look rather nice on the pie in the end!)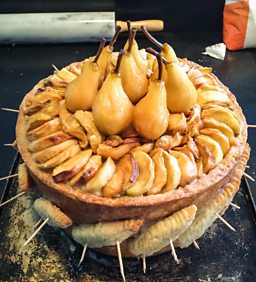 18th Century wet suckets on the top of a giant pear and apple pie. Don't eat it though - the pie is fake!
"I couldn't fit it into my oven!"
A whole giant poached salmon, glazed with jelly and decorated with cucumber and pink peppercorns, lemons and bay leaves. This formed part of the lavish feast from episode three.
It is curled up in a 'c' shape as that was the only way I could get it into my oven! In this scene there was also a whole roast suckling pig that was brought in ready-cooked from a butcher as I couldn't fit it into my oven.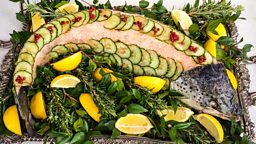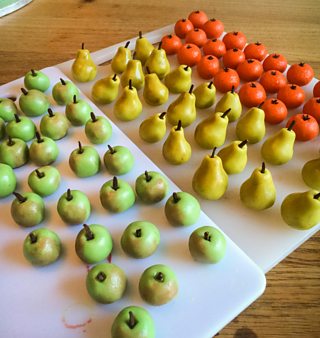 Here are loads of tiny marzipan fruits - lemons, pears, apples, oranges. These took me hours and hours to make. Almost days, really! So fiddly. The stalks were made of cloves.
More from Radio 4 in Four...
They might sound like unusual suggestions, but trust us - they are truly delicious.

Are you a real coffee connoisseur? Take the plunge and find out...