Main content
New cast members scrub into Casualty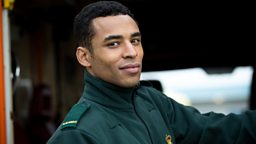 In its 30th anniversary year, Casualty welcomes Jaye Griffiths, Jason Durr and Lloyd Everitt as new regular cast members this Spring.
Casualty has seen plenty of famous faces in the Emergency Department over the last 30 years, and as the show drives towards its anniversary and the 1,000th episode, we meet new characters who make a big impression on the staff at Holby hospital.
"We have three wonderful new cast members joining the Casualty medical team over the coming months," Executive Producer Oliver Kent told us. "They will be taking on very different roles and will be embarking on their own brilliantly vibrant, bold and gripping stories each Saturday night."
Lloyd Everitt joins the show as paramedic Jez Andrews, Iain's new partner in crime, on Saturday 12 March. Jez fails to make a good first impression on Iain with his cheeky banter and lax attitude, and has the challenge of filling Dixie's shoes.
The 27 year old has made television appearances in Emmerdale, Perseverance Drive, New Tricks and last year played Othello at Shakespeare's Globe. Filming at Roath Lock since November, he revealed: "The most exciting thing so far has been filming rescuing a girl from a cliff. I actually felt it was a real life situation and that excited me.
"I feel honoured to be joining such a successful show and look forward to bringing a different essence to a programme that's synonymous with British culture and television. It's actually the first programme I remember watching when I was a child at my Nan's house, there's a great beauty to that.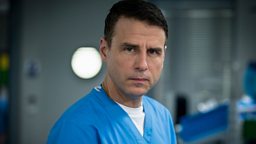 We first meet Nurse David Hide, played by Jason Durr on Saturday 30 April. He appears in the Emergency Department as a shy, withdrawn, and socially awkward man who goes about his work efficiently and quietly. He would love to be able to unleash the other side of his personality, but knows that comes at a price. He has a path to choose, but will he take the plunge and roll the dice?
Commenting on his role, Jason Durr, said: "I'm absolutely delighted and thrilled to be joining this iconic BBC flagship show in its 30th year. I have to confess that I have a huge phobia of blood and needles, so I'm hoping my time at Holby hospital will help me overcome my life long fear!"
Jaye Griffiths (Doctor Who, Sherlock) also returns to Casualty as a regular cast member making her on-screen appearance as Consultant Elle Gardner in May. A single mum with three chaotic teenagers, it becomes clear that Elle is a little out of practice as she struggles with the concept of ultrasound. But using her instincts she works brilliantly and wins the team over.
"I was filming in Cardiff for Doctor Who last year, so it's great to be back in Wales starting a new role with the Casualty team," Jaye explained. " Everyone's been extremely welcoming and the storylines are really powerful."