Main content
Seven song lyrics to use in conversation today
It's the 60th anniversary of My Fair Lady, which contains some of the sharpest and most beautifully-honed lyrics in musicals. Clarke Peters explores The Art of the Lyricist describing the fastidious crafting of lyrics, agonising for 12 hours over one line and, like Alan Lerner, wearing gloves while writing to prevent himself gnawing his fingernails clean off.
The best song lyrics so perfectly sum up a universal experience that they jump from the score and become part of the language, used by everyone. Here are our favourites, but we warn you, we're not taking responsibility for any resulting earworms...
1. Mrs. Worthington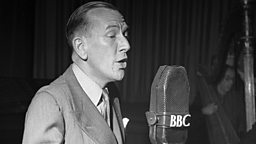 Noel Coward performing on the BBC Forces Programme in 1943
Any stage-struck child will immediately conjure up these crisply dismissive Noel Coward words: "Don't put your daughter on the stage, Mrs. Worthington". "Admitting the fact / She's burning to act / That isn't QUITE enough".
2. Ullo John! Gotta New Motor?
Alexei Sayle's brilliant, fake-Cockney: "Ullo John! Gotta new mo-TOR?" has become indispensable for tabloid headline writers. Sayle himself wrote the lyrics and said: "It is a really good song! Original, tuneful and the only top 20 record to mention tropical fish and Peckham."
3. Everything's Coming Up Roses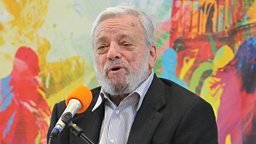 Composer and lyricist Stephen Sondheim in 2010
Stephen Sondheim wrote Everything's Coming up Roses for the Broadway musical Gypsy. Originally sung by the fabulously brassy Ethel Merman, it became one of her signature numbers. It's no surprise that the phrase has passed into common usage, Sondheim deliberately wanted to create a line that sounded as if it had been used for years.
4. Money Makes the World go Round
This was a line from the song Money in the 1972 film Cabaret, lyrics by Fred Ebb and sung by a heavily eyelashed Liza Minnelli.
5. One More for the Road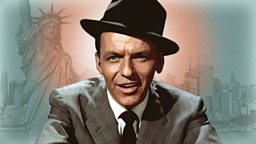 Francis Albert "Frank" Sinatra, one of the greats of 20th Century music
Anyone who's sat, heartbroken, in a bar, will relate to this one. Famously sung by Frank Sinatra in One for My Baby in the musical The Sky's the Limit, the phrase was written by Johnny Mercer. The composer Harold Arlen described One for My Baby as a 'tapeworm', musical slang for a song that was longer than 32 bars.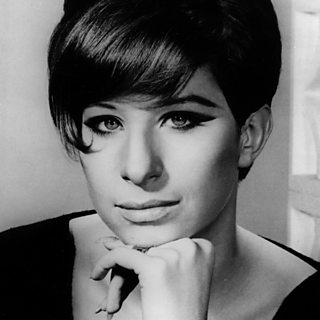 A young Barbra Streisand in 1964
6. Home, James!
We've all used this one. It comes from a song called Home James and Don't Spare the Horses, sung originally in 1934 by Elsie Carlisle and the Mayfair Hotel Orchestra. No lyricist is credited, but some say it was something Queen Victoria said!
7. Don't Rain on My Parade
Bob Merrill wrote this one, for Funny Girl, starring Barbra Streisand, in 1964, and it means "don't bring me down". It's been sung by everyone from Diana Ross and the Supremes to Lea Michele in Glee, Lois Griffin in Family Guy, and Robin Williams dressed as Streisand in Mrs. Doubtfire.
Even those of us who are happy to da-dah-dah our way through our favourite songs, occasionally coming in with the right word at the right moment, will still be affected by lyrics. After all, what better way is there to tell you're in love other than suddenly realising that every lyric to every love song is about you? Ready? All together now... "I'm getting married in the morning, ding dong the bells are going to chime..."
As "My Fair Lady" marks its 60th anniversary, Clarke Peters explores the career and legacy of its lyricist Alan Jay Lerner and the art of songwriting.
More from Seriously...
The team of recovering addicts who made their mark on cinematic history.

David Aaronovitch on how an Eastern political tract became a Western icon.

David Bowie's interviews reveal his humour, passion and determination to succeed.

Did Nazi leader Hermann Goering have a brother who saved innocent lives from the Holocaust?

A selection of great female authors who have radically altered the genre.

Dream away those mid-winter blues by pondering our selection of fantasy idylls.

Mat Fraser meets the former striptease stars back on the stage in their 70s and 80s.

The legendary radio maker recommends seven great documentaries for Seriously...

A poetic retelling of the Orpheus myth, from the celebrated writer Neil Gaiman.

An aspiring singer-songwriter meets the man who predicted the demise of the music industry decades ago.

What have you learned from our documentaries? Try our fiendishly difficult quiz...

Kellie Redmond explores Disney's fascinating contribution to the war effort.

The Simpsons star, satirist and actor reflects on the flood that devastated his home town of New Orleans.

Meet five codebreaking women who helped beat the Nazis and are still alive to tell their tales.

Seven reasons to love the modern melodic drum that creates a haunting tone.

The award-winning writer on porpoise dissections, stranded whales and beached dolphins.