Main content
F1 Driver Laps
If you're not content with the celebrity lap times, have a look to see how the professionals got on. As well as The Stig.
Stig and Lewis Hamilton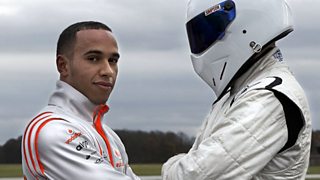 Every so often F1 drivers past and present grace the Top Gear studio, but who's the fastest?
Find out how they got on when they swapped their racing cars for the Suzuki Liana or the Kia Cee'd.
Time to get those engines roaring.
Check out how the elite got on.
| F1 driver | Time (mins) |
| --- | --- |
| Lewis Hamilton | 1.42.9 |
| Mark Webber | 1.43.1 |
| Sebastian Vettel | 1.44.0 |
| Rubens Barichello | 1.44.3 |
| The Stig (ll) | 1.44.4 |
| Nigel Mansell | 1.44.6 |
| Lewis Hamilton | 1.44.7 (w) |
| Jenson Button | 1.44.7 (w) |
| The Stig (l) | 1.46.1 |
| Damon Hill | 1.46.3 |
| Mark Webber | 1.47.1 (w) |
(w) = times for a wet course