Main content
From Joy Division to Chic: 8 iconic album covers from 1979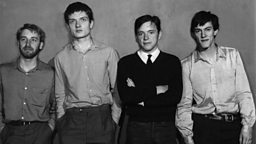 Joy Division's seminal album Unknown Pleasures celebrates its 40th anniversary in 2019, with 6 Music's Mary Anne Hobbs devoting an entire show to the classic LP and playing the record on vinyl and in full (available from 11.30am on Friday 14 June).
40 years on and Peter Saville's iconic cover artwork is as recognisable as ever. But 1979 was a watershed year for the album cover overall too. The new generation of post-punk and synth-pop bands demanded a more considered, minimalist approach to reflect their interest in modernist design and the march of technology. Combined with the luxe imagery of disco and reggae's colourful cut-and-paste approach, 1979 delivered a continuous stream of great album art.
New indie labels such as Rough Trade and Factory made sleeve design an essential part of their offering, treating each new release like a work of art. The best of 1979's album art was fearless in its simplicity, clearing the decks for the brave new world of the 1980s. In no particular order, here are 10 shining examples of the form - each as iconic as the music contained within.
1. Joy Division - Unknown Pleasures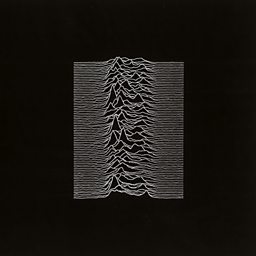 Judging by its continued ubiquity as a T-shirt design, Joy Division's Unknown Pleasures must rank as one of the most resonant sleeve designs of all-time. Although Factory Records' in-house design guru Peter Saville takes credit for the brilliantly stark execution, the image of the pulsar wave pattern, torn from the Cambridge Encyclopedia of Astronomy, was suggested to him by the band themselves.
Saville simply reversed the colours and the rest is history. Whether you see the image as a forbidding lunar mountain range, a soundwave, a heartbeat or what it actually is - a pulse of electromagnetic radiation from a distant star - it perfectly encapsulates the stripped-back humanity, single-minded drive and isolation of the music within. It was so perfect that the idea of compromising its impact with either band or album name was never considered. "Having the title on the front just didn't seem necessary," Saville told The Guardian. "It was the post-punk movement and we were against overblown stardom."
2. The Clash - London Calling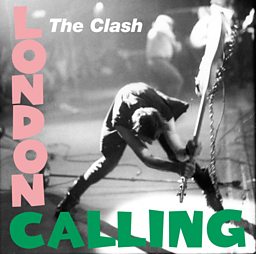 The Clash's best album came wrapped in their finest sleeve. Snapped by photographer Pennie Smith on stage at New York's Palladium, the image of bassist Paul Simonon slamming his instrument on the floor in order to gee up a subdued crowd seemed to perfectly capture the band's modus operandi of righteous, glamorous rebellion. Joe Strummer initially deemed the photo too blurry to use, but luckily he was overruled.
Designed by NME cartoonist Ray Lowry, the pink and green lettering is a direct homage to the cover of Elvis Presley's eponymous 1956 album, successfully positioning The Clash as torch-bearers of Elvis's original primal rock'n'roll mission. The layout has subsequently been homaged and parodied numerous times, not least by The Clash's Mick Jones himself on Big Audio Dynamite's 1995 album F-Punk.
3. Chic - Risqué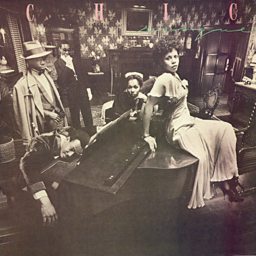 Away from the gloominess of the British post-punk scene, Chic's sumptuous third album provided the artistic high-water mark of the disco boom. Extended dancefloor workouts such as Good Times and My Feet Keep Dancing painted an impossibly glamorous portrait of the Studio 54 scene, while What About Me and Will You Cry (When You Hear This Song) were exquisite studies in romantic anguish.
The sepia cover photo played up to the fantasy, featuring the band dressed in dapper 1930s garb, arranged around the piano in a plush hotel suite. Bassist Bernard Edwards is slumped over the keyboard while the rest of the group shiftily eyeball the camera as if they are suspects in a Raymond Chandler whodunit. A study in a decadence for the end of the disco decade.
4. PiL - Metal Box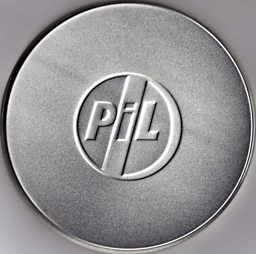 One of the most striking album sleeves of 1979 wasn't even a sleeve - as the album title suggests, it was a monolithic metal box featuring nothing except the stark PiL (Public Image Ltd) logo. Keen for listeners to fully appreciate the heaviness of their dubby new direction, the band insisted the LP be pressed on to three 45rpm discs. This gave rise to the idea of packaging them in a metal film canister rather than the traditional cardboard sleeve.
The concept had its flaws: it was hard to remove the discs from the box and they were easily scratched in the process; after an initial run of 60,000, Virgin issued subsequent presses of the album in a conventional cardboard gatefold, renaming it Second Edition. Yet a statement had been made: this was difficult, paranoid music about death and decay that made no effort to please listeners. Open the box at your peril…
5. Throbbing Gristle - 20 Jazz Funk Greats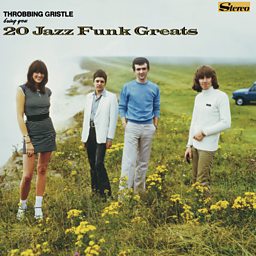 While other British post-punk bands were edging towards harsh, industrial designs, Throbbing Gristle - the harshest, most industrial post-punk band of them all - marked themselves out as true musical rebels by going in the opposite direction. To complement an album that toyed with elements of jazz and exotica in an effort to keep their audience guessing, the band posed smiling in their Sunday best by a picturesque stretch of English coastline.
A parody of easy listening records, Throbbing Gristle's Cosey Fanni Tutti later explained in 2012: "We had this idea in mind that someone quite innocently would come along to a record store and see [the record] and think they would be getting 20 really good jazz/funk greats, and then they would put it on at home and they would just get decimated."
6. Talking Heads - Fear of Music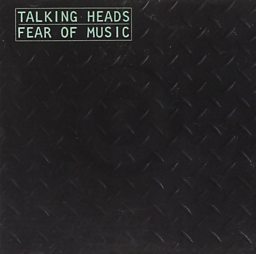 Talking Heads' third album - helmed by visionary producer Brian Eno - found them embracing disco, funk and world music while maintaining the itchy paranoia of their first two efforts. Songs such as Cities and Heaven looked forward to an uncertain future of automation and alienation.
Like Joy Division and PiL, Talking Heads opted to present their 1979 album in an austere, conceptual sleeve design by the band's own Jerry Harrison. Metallic black with embossed cross-hatches, it resembled a tyre tread, a manhole cover or perhaps a steel panel on the side of a hulking ship or spacecraft. Meanwhile the lettering seemed to reference the green-screen displays of the first wave of home computers, new to the market in 1979 with the promise that they would transform our lives forever.
7. Amii Stewart - Knock on Wood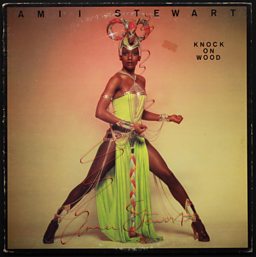 Disco was a genre that celebrated strong female personalities: Donna Summer, Grace Jones, Gloria Gaynor and Sister Sledge were all doing it for themselves. 1979's Knock on Wood added Amii Stewart to that list with an album that sleeve that screamed "don't mess".
8. The Human League - Reproduction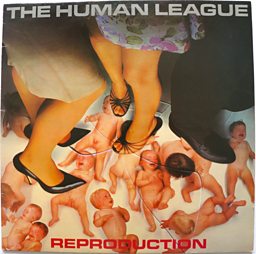 Two years before they hit No. 1 with Don't You Want Me, The Human League were an experimental synth-pop outfit influenced by Kraftwerk and JG Ballard. As such, the cover of their debut album Reproduction - featuring songs called things like Austerity and Circus of Death - required a suitably dystopian image.
The band talked the Virgin Records art department through their idea of a discotheque with a glass dancefloor, beneath which was some kind of creche. "It was meant to look like a still from a film - like some kind of dystopian vision of the future - but it just looks like they're treading on babies," lamented Martyn Ware to Creative Review. "We were quite upset but at that time, it was too late to change it."