Main content
About
World War One At Home reveals how the momentous events of the war affected life on the Home Front. Around 1400 stories will be broadcast throughout 2014 and beyond, on BBC local and national radio and television, and online.
Local stories from a global conflict
Each World War One At Home story focuses on a place – airfields, hospitals, schools, churches, town squares, theatres, high streets – to show how events there influenced a global conflict - how the production lines of the British factories kept the front lines supplied, how innovations in technology revolutionised the war effort, and the impact of enemy offensives changed the face of Britain's coastlines and cities.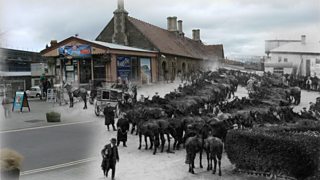 World War One At Home launched in February 2014, with the release of 223 stories across radio, TV and online. There will be similar releases in June, August and November, bringing the total stories on the site to over 1,000, with many more to be published in 2015 and beyond.
Partners across the UK
The BBC has partnered with Imperial War Museums and the Arts and Humanities Research Council to help research the stories for World War One At Home. Imperial War Museums have provided unique access to their archives and experts, which has uncovered a wealth of stories, many of which have never been told before, as well as astounding photography, sound and film footage.
Academics and historical experts supported by the Arts Humanities and Research Council have provided time and expertise to BBC journalists and researchers, giving historical context, research leads and enabling access to local historical museums, organisations and specialists, who have also generously provided assets and valuable insight from their own collections.
Each World War One At Home story will be published online, and remain available indefinitely, providing an unparalleled digital archive of audio, video and imagery. The stories will be organised by place (a BBC local or national radio station) or by theme (such as War in the Air, Women, Medicine, Working for the War, Sport or Animals). A range of BBC News features will bring additional insight and historical context to the stories.
Listen out for the stories from your area on your local TV and Radio stations. Find stories from across the country online, or by following #WW1AtHome.