Main content
BBC Fresh Profile: Shekeila Scarlett
Young film-maker Shekeila Scarlett talks to BBC Fresh about her film Hackney, Space and Me.
The streets and open spaces of the East End of London inspired Shekeila to make her film.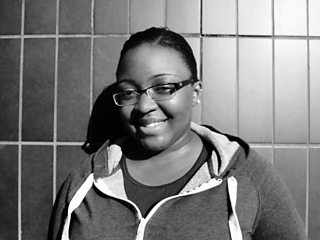 Why did you pick this subject for Fresh?
I picked the subject of belonging as it's something that not many people explore in depth and I wanted to share the personal side of where I belong and come from. To me, Hackney is very important. The borough holds many memories for me and it is somewhat a part of me, and I hope you understand that from my film.
What motivated you to make this film?
I was motivated to make this type of film through my experiences of growing up in Hackney, and particularly because I felt that a lot of people found it hard to understand how space is used by young people in many different ways.
What camera did you use to shoot your film?
I used a Sony NX30E.
Who/what inspires you?
In a way, I find my inspiration by finding places where I can feel comfortable and safe, and have the space to listen to my inner thoughts. This is what I try to get across in my film. The canal is one of my favourite places to walk and think. I find the canal a very peaceful place. For me, feeling safe and free in Hackney just comes naturally, and I think could be quite easy for most people, as Hackney is such a diverse borough.
What are your plans for the future?
I am currently working on plans to show my film at local youth clubs so we can generate discussion with young people and talk about how they define Hackney as 'home', but I also want to find out if many young people are noticing the changes that are taking place in their local areas too.
What is the most important thing you have learned so far?
The most important thing I learned was how to link up my inner thoughts and the different places that meant the most to me in a way that told a coherent story on film.
About the Creating Hackney as Home project:
The Creating Hackney as Home project uses participatory video production to explore how young people experience a sense of home and belonging in the London Borough of Hackney. Our project's five peer researchers spent the summer of 2013 creating short films that reflected on different aspects of how we belong to the place where we have grown up, and explored how we each understand Hackney as our home.
As a team we are interested in ideas about home and belonging because they are important to everybody in one way or another. We think of home as being about the physical places where we live and know well, but also in terms of the relationships we form in such places and the feelings we attach to them. We think that when all around is changing, particularly in cities like London where we all live, the everyday challenges we face in trying to maintain our sense of familiarity, stability and belonging is something that we can all relate to. Our motivation to produce the collection of films was a desire to place young people's perspectives at the heart of these debates about urban change, cultural diversity and social inequality.
Follow Shekeila as she walks the streets and canals of Hackney where she grew up.