Main content
A Dracula disaster: When Bela Lugosi came to Britain
By John O'Rourke | 30 October 2014
In a vampire treat for Halloween, BBC Arts tells the remarkable story of horror legend Bela Lugosi, when he took to the British theatre stage as Dracula in the 1950s, in a high stakes gamble to revive a dying career.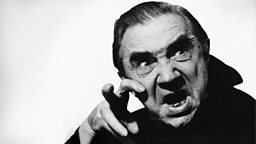 It was a dark and stormy night. Well, actually it wasn't. But the uninspiring British weather was the least of Bela Lugosi's worries.
On a mild September evening in 1951, the man who was once Hollywood's greatest horror star was at crisis point after a dismal performance at a Derby theatre.
In British theatrical lore Dracula was written-off as a shambolic failure"
Lugosi had stepped off the boat in Southampton six months earlier, determined to revive his career on stage with a West End production of Dracula. Feted across the world in the 1930s for immortalising the vampire lord on screen, Lugosi's star had been on the wane since the end of World War 2.
In the age of the atomic bomb, audiences no longer had patience for ludicrous creatures of the night. The 68-year-old actor was reduced to a series of bit-parts in farces and B-Movies.
Hungarian-born Lugosi had long since stopped struggling to dissociate himself from the Dracula role. But before he could secure a lucrative London run for his vampire, he would first have to tour Britain's regional playhouses to build up momentum.
And so it began - premiere in Brighton, a week in Eastbourne, jaunt north to Glasgow, across the water to Belfast, a spell in Manchester, 12 shows in Middlesbrough, Leicester, Chatham, Cambridge, Chiswick, Luton. Each spiralling closer to the longed-for West End, but never quite clinching the deal.
By the time Lugosi reached Derby, twenty-odd weeks into a tour that was only supposed to last six, desperation had sunk in.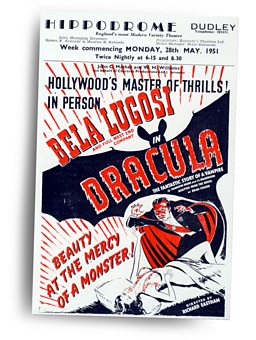 In British theatrical lore, Dracula was written-off as a shambolic failure. Rumours persisted of a gullible Lugosi being duped into a show with a cast of otherwise 'amateur' actors, which was so chronically mismanaged that producers even failed to pay his wages.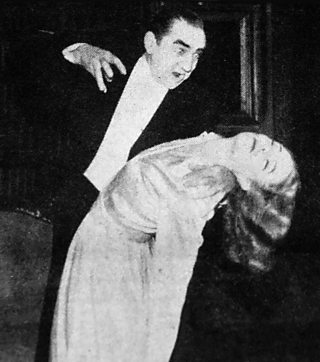 Dracula takes a bite of Sheila Wynn
Certainly there were faults. A large prop bat that would overstay its welcome onstage before spontaneously juddering off again, a noxious smoke machine that caused one actress to faint, and an understudy who spent a chaotic performance chasing the pages of his unstapled script across the stage.
But by all accounts such incidents were part and parcel of 1950s repertory theatre, and Dracula's cast of professionals do remember being paid on time.
At the time Lugosi was sliding into the drug dependency that would see him hospitalised for morphine addiction in 1955, however those around him considered him the consummate professional.
Sheila Wynn, Dracula's leading lady, recalled a scene where her character was bitten by the bloodsucker: "Bela did this in a very gentlemanly way. He placed a light kiss on my neck, with his mouth closed—not like some leading men who tried to make a meal of it."
Lugosi took great care of his fellow actors, filling in for director Richard Eastham - who left the show after the opening night – and offering tips to help their performances.
Lugosi's good humour came out too. At dinner after their first rehearsal, Eastham was terrified about what to say to the cinema star. Lugosi however swooped in to cut the tension, announcing: "Dickie, I don't like the toilet paper in your country - it doesn't soak up the manure very well."
Lugosi was accompanied everywhere by devoted wife Lillian, almost thirty years his junior. She watched every performance and always had a ready-lit cigar waiting for him as he came off the stage each night.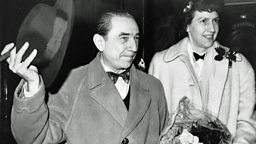 Lugosi's wife Lillian was at his side throughout the grueling tour
A History of Horror
Actress Sheila Wynn, leading lady on the 1951 tour of Dracula, recalls how Bela Lugosi hoped the production would "bring his prestige right up again".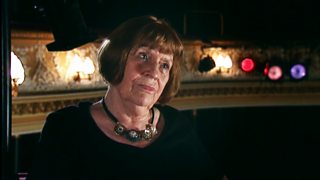 Yet, he was dismayed that increasingly sophisticated audiences no longer feared his vampire as they once had, and some even "giggled" at the production.
Wynn talks to Mark Gatiss in the series A History of Horror, first shown on BBC Four in October 2010.
Sadly, initial interest from London's Garrick Theatre failed to materialise, and the cast found themselves oscillating the length of Britain waiting for an opening to emerge. Lugosi was drained by the touring. The ageing actor was starting to miss his cues, and had begun confusing dialogue from one act with another.
That night in Derby, producer John Mather told Lugosi of further plans to travel to Newcastle and Liverpool, with no West End opportunities in sight. Mather recalls: "He looked at me a long time. 'John, I can't go on," he said, 'It's taking too much out of me. Please finish it quickly."
Mather put up the closing notices. With his remaining time in Britain, Lugosi accepted a part in a lacklustre instalment in the popular Old Mother Riley film series, the Mrs Brown's Boys of its day.
After pocketing Old Mother Riley's $5000 fee Lugosi returned home to America for the last time. Here he entered into the surreal final chapter of his professional life, collaborating with the cult filmmaker Ed Wood. He died five years later, famously buried in his Dracula cape.
Despite the disappointment of the British tour, Lugosi's dedication to Dracula brought nothing but admiration from the cast. He had worked with more-or-less the same script from his first performance as the vampire in 1927, yet never seemed to stop striving for perfection in the role.
They remembered him as one of the last of the old stage greats. A hoary giant, who could project to the other side of a crowded auditorium with his most breathless and menacing whispers.
With thanks to Andi Brooks and Frank Dello Stritto of the Bela Lugosi blog.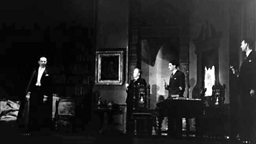 With the cast on stage in Brighton