Main content
Mark Hoppus On The Records That Changed His Life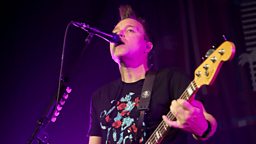 Before Blink-182's Las Vegas Residency at the Palms wrapped, Daniel P Carter headed out to America to sit down with Mark Hoppus for 'Music Ruined My Life'.
Mark took us on the journey of his musical upbringing on Radio 1's Rock Show, from buying his first cassette to christening the Walkman he got for his tenth birthday, to having explosive diarrhoea in front of The Cure's Robert Smith some 22 years later. Let's be honest, it wouldn't be a true Blink-182 anecdote without some sort of bodily fluid getting a mention…
Here's what we learnt on 'Music Ruined My Life' with Blink-182 frontman Mark Hoppus.
1 | The first album he bought… Michael Jackson's Thriller
Before discovering his own music, Mark's father introduced him to The Beatles, Billy Joel and Elton John (not a bad haul), but when Mark was given some money for his tenth birthday it was a Michael Jackson record that he went out and got (again, not bad for a 10 year old).
"I think it was my tenth birthday and I got money from one of my grandparents. I bought it on cassette for my brand new Walkman, which was my big birthday present that year. I felt really spoilt as a 10 year old to have a Walkman."
"I remember when the video for that song came out. It was a huge deal, and it premiered, I think, on HBO in the United States, and they had the making of beforehand and John Landis directed the video. It was this big thing that a music video was actually longer than the song - it was like a short movie. So that formed the foundation of my music collection."
2 | The album that changed his life… The Descendants' I Don't Wanna Grow up
It's no secret that The Descendants inspired all the members of Blink-182 (past and present), but Mark said it was Silly Girl that changed his view on the punk rock forever.
"When I heard Silly Girl it changed everything that I thought punk rock was or could be. All the punk rock I heard before that was really political, angry and screamy, and it didn't click with me at all."
"Then I heard Silly Girl - it was like a punk rock Beach Boys - you could sing along to it, it had great melodies, great harmonies, and it was about a girl. Then I wanted to hear everything I could by the Descendants, then from there I got into Bad Religion, then from there I got into Sonic Youth... and then my brain blew up and I was 15."
3 | The first band he saw live… They Might Be Giants
Dressed head to toe in black, Mark and a group of his teenage friends headed to the 9:30 club in Washington DC to see alt-rock band They Might Be Giants while they were touring The Pink Album in 1988.
"In the March of 1988, I went to see They Might Be Giants at the original 9:30 Club, and it was the first time that I smoked a cigarette."
"We were just these 15 year old kids, turning 16, and we decided we wanted to smoke to look cool, so we bought bought a box of cigarettes from the cigarette machine and sat at a booth. We must have just looked so laughable."
4 | The song he is most proud of… Baby Come On by +44
When Blink-182 took a break in 2005, Mark formed +44 with fellow bandmate Travis Barker, along with Shane Gallagher of The Nervous Return, and Craig Fairbaugh of Mercy Killers, but it's Baby Come On that Mark says became the song to sum up that transitional period in his life.
"I am very proud of a song on the +44 record called Baby Come On, it's one of my favourites and I don't really know why. I love the feel of that song and that it's kinda dark and hopeful at the same time."
"It represents that period of time in my life very well because when Blink broke up the first time it was a total loss of identity. I had spent 15 years building Blink-182 and being Mark from Blink-182, and when that got taken away I was at a loss. So the +44 record is me trying to work through what life is like on the other side of what Blink-182 was at that point."
5 | The band he most wanted to (and has) covered… The Cure
Mark wore thick black eyeliner at school as a homage to his childhood hero Robert Smith - and he says you can still spot remnants of how he used to do his hair during his "super gnarly Cure phase" to this day, but when he met the frontman of The Cure for the first time it didn't quite go as he planned...
"We did a show called MTV Icon a number of years ago and they were honouring The Cure who were by far my favourite band when I was growing up, and we had the chance to play a Cure song in front of The Cure - it was a really special experience."
"I think that's the first time that I met Robert Smith actually, the hero of my life, so stoked to meet him. He was really gracious, and apparently he has nieces and nephews who were fans of Blink, so that was really cool. So we do the soundcheck, then we went and had Indian food. Then we are driving back to the venue and I started feeling so gnarly sick - like, I'm gunna blow. I'm stick to my stomach: I have to get to a toilet immediately. We get to the venue, I run to the bathroom and have just the worst diarrhoea of the my life. I go back to the dressing room and chill for a while, I'm sweating, I feel awful. Then they start going 'ok 10 minutes' and we're the first band on. I am like oh my goodness I have to go upstairs again. So I go upstairs and they are like 'ok Blink 182 to the stage' and the mens room empties out, and I just destroy this bathroom. I open the door to leave and literally standing right outside the door is Robert Smith as I'm walking out of the bathroom from just having the worst diarrhoea of my life..."
But they did collaborate on All Of This for Blink-182's Untitled album in 2003, so it can't have been that bad…
6 | The song that means the most to him… Adam's Song
Adam's Song was the third and final single from their 1999 record, Enema Of The State. Mark initially thought the subject might be too depressing as he revealed to Daniel how it's the most honest song he has ever written, and how it still affects him to this day.
"It was a very autobiographical song for me about going to a really dark place in my head sometimes, and is definitely one of the most honest songs I have ever written, so it means a lot."
"We stopped playing it for a number of years, although we have put it into sets here and then now, but even last night we played it… I don't know it brings me to a strange place."