Main content
'You have to be able to laugh at yourself': Five secrets of good public speaking
Theresa May has made £1million so far giving speeches on the lecture circuit since she stood down as Prime Minister in 2019, according to the House of Commons Register of Members' Financial Interests.
Sadly, most of us won't be getting paid for giving speeches or presentations, but what are some of the secrets of effective public speaking?
BBC Radio 4's Woman's Hour spoke to Professor Heather McGregor, Executive Dean of Edinburgh Business School at Heriot-Watt University and Viv Groskop, comedian and author of How to Own the Room, to hear their tips.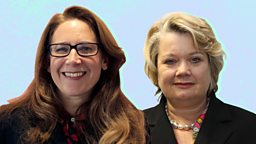 Viv Groskop and Professor Heather McGregor
1. Use humour to get people onside
"I've talked to Mary Portas and Professor Mary Beard about this...and both of them said that as a woman...if you can use humour, you immediately get more people onside," says author and comedian Viv Groskop.
"I remember Mary Portas saying, as soon as she would make a joke, she would notice men in the room unfold their arms and relax. So I think you have to disarm slightly more if you are a woman, or show yourself to have a sense of humour about yourself. That can really help. But once you've got people onside, then I think that that gender divide sort of flattens a bit and you can just be yourself."
2. Be able to laugh at yourself
"You have to be able to laugh at yourself and you have to be able to get the audience to laugh with you," says Professor Heather McGregor. "So you have to talk about experiences that they're going to have. They haven't all been prime minister, but they've all been in a position where you've made the husband put the bins out. That is the kind of level that you have to get into and engage with."
"I really learnt my craft when I had to go and do stand up comedy...and that is a school of hard knocks. A place where people didn't necessarily listen to you. They did walk out. They didn't always respond positively to you. And they haven't come necessarily there to hear you. So if you can hold people's attention by making a joke, laughing at yourself, referring back to something you've said earlier...I think that is very important."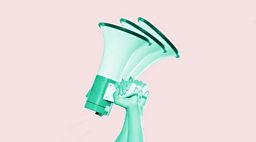 3. Read the room (or virtual meeting room)
"The other important thing is reading the room," says Professor Heather McGregor. "So making a joke about something that's happened to you."
"I did a public engagement at the end of January for Burns Night in London. The first thing that happened when I arrived at the venue was that they charged me for my room, which I thought was meant to be free because I was coming to speak. But I didn't argue, being a pathetic woman, I just paid. But I stood up that night in front of three hundred people and said: 'So I knew Scots were parsimonious, but to be charged for my room when I checked in, I thought that was a bit much'. That was the thing that took us off to a good start, because I had talked about something that had happened that day. And I do think you have to read the room and adjust accordingly and be able to adjust mid-speech."
4. Smile
"Your first impression is the most important thing and comedian Katie Brand's advice and my advice would be the same: smile," says Viv Groskop.
"That's something that is really interesting about women and public speaking that we don't like to say. I've done lots of events and workshops with women where we've discussed this and women will say, 'why do I have to smile at the audience? I don't want to feel like a geisha.' Women hate being told to smile and 'make nice'. But there is something about warmth, a human thing, not a female thing."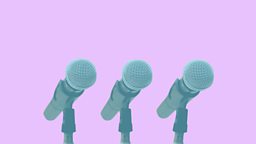 5. Your first 90 seconds are crucial
Don't waste time at the start of your speech or presentation, Viv Groskop advises. "I was talking to Katie Brand...and she was saying that you've really got the first one and a half minutes. I think I've heard Lenny Henry say that even when you're famous, it's 30 seconds. You've got that time to get your audience onside or not. If you lose them after that 30 seconds or one and a half minutes, then you really are fighting a losing battle."
Listen to every episode of Woman's Hour on BBC Sounds or follow us on Twitter or Instagram @bbcwomanshour.