Main content
Radio 1 Presents... The 1975, Jake Bugg and Lady Leshurr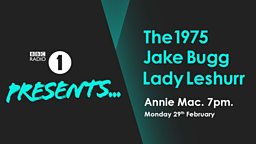 Date: Monday 29th February 2016
Venue: O2 Kentish Forum, 9-17 Highgate Rd, London NW5 1JY
Line Up: The 1975, Jake Bugg & Lady Leshurr (+ Annie Mac)
Tickets for this event have now sold out. We're sorry if you missed out!

If you didn't manage to get tickets, don't worry as you will be able to listen live from 7pm on 29th February. You will also be able to watch the show the following day on BBC iPlayer.
Please do not risk buying tickets through unofficial channels.
We understand your frustration that some people may place adverts on secondary ticketing websites. We do not agree with people selling tickets on for profit, however legally there is nothing we can do to prevent this happening.

The BBC reserves the right to ask ticket holders for their identification linked to the purchase of the original ticket upon entry to the event. We strongly recommend the public do not risk buying tickets that are being resold as we cannot guarantee whether they are genuine or if they are tickets that have previously been cancelled. Those offering free or paid tickets for sale are breaking the Terms & Conditions they agreed to during the booking process and, if discovered, we reserve the right to cancel their tickets.
Frequently Asked Questions
Are there any age restrictions to attend?
Yes, you need to be aged 16 or over to attend this event. If you are 16 or 17 years old you will need to be accompanied by a responsible adult aged 18 or over.
You may be required to provide photographic ID in the form of a passport of driving licence. Please click to view the event Terms and Conditions.Please note there is no readmission to the venue once the event has started.
How do I get to the O2 Kentish Forum?
Please click for travel and transport information for the 02 Kentish Forum.
What time will the event take place?
Doors for the event will open at 6pm for a 7-9pm show.
What disabled facilities are available at the venue?
BBC Radio 1 and its venue partners are committed to ensuring this event is accessible as possible for everyone. There are no steps to access the venue. There are no more steps into the auditorium. The Balcony area is only accessible via steps (approximately 35); unfortunately, there is no lift to the balcony area.
For seated events, guests can also transfer from wheelchairs to an aisle seat in the downstairs area of the auditorium if preferred and if seats are available. The wheelchair can then be stored in the cloakroom (free of charge) and returned by an usher at the end of the event. There are two bars in the downstairs area of the auditorium area and one accessible toilet. On the evening of the event, we advise disabled customers and those with specific access requirements to arrive at the venue 15 minutes prior to the doors opening, accompanied, where required and approved in advance by a personal assistant over 18 years of age who will be admitted free of charge. The free personal assistant ticket is available to customers that are registered disabled (see above for details). The paid-for ticket needs to be booked in advance. Please contact us via email info@theforumlondon.com or phone 020 7428 4083 for specific requests, enquiries or comments regarding access/personal needs and a member of our team will endeavour to accommodate your requirements. Further information about the O2 Kentish Forum's facilities for disabled customers.
When will I get my tickets?
Tickets for this event should arrive within 7 working days after booking.
What happens if my tickets don't arrive?
If you have any problems receiving tickets for this event please call the TicketWeb Customer Service Team on 844 477 2000 24 hours a day or click for further information.
Can I bring a camera?
Yes, but please be aware professional photography equipment such as zoom lenses are not allowed in the venue. Please also note Selfie Sticks will not be permitted.