Main content
Woody Guthrie for Folk Awards Hall of Fame
Radio 2 Folk Awards 2017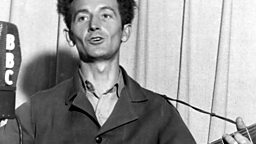 This year's inductee into the Radio 2 Folk Awards Hall of Fame will be the legendary Woody Guthrie.
The Hall of Fame exists to recognise the special contribution of an individual to the world of folk music; someone whose impact and influence has had a lasting impression.
This year marks 50 years since Woody Guthrie's death in 1967. Woody is an icon of folk music, who wrote some of the most enduring standards in the genre. His life and work was dedicated to supporting and documenting the rights of workers and the downtrodden. Guthrie's songs include This Land Is Your Land, Vigilante Man, I Ain't Got No Home In This World Anymore, Do-Re-Mi and Talking Dust Bowl Blues.
In New York City during the 1940s, he founded a group called the Almanac Singers alongside future members of The Weavers including Pete Seeger and Lee Hays. Guthrie's songs have been recorded by countless singers, from Bob Dylan to Bruce Springsteen.

He was a mentor to young Bob Dylan and Ramblin' Jack Elliott. Many of Guthrie's songs are archived in the US Library of Congress.

In 1998, Woody's daughter Nora Guthrie, invited Billy Bragg to set a treasure trove of his unsung lyrics to music, which he did in collaboration with US alt-rock stars Wilco – resulting with the Grammy-nominated Mermaid Avenue albums.

Billy Bragg will lead the 2017 Folk Awards tribute to Woody Guthrie.
10 Woody Guthrie covers you need to hear
Woody Guthrie's influence stretches far beyond just folk musicians.