Main content
Is there still a place for panto in the 21st Century?
"Panto season", wrote one actor earlier this year, "seems to consistently normalise casual racism for the next generation". So should theatres be moving on from the genre altogether? Or, asks BRUCE MUNRO, is there a fresh path that can guide these famous characters past the potential pitfalls around race, gender and sexuality?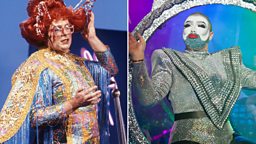 Christopher Biggins as a traditional dame in 1985 and Danny Beard as a gender-neutral dame in 2018
Racism waiting in the wings?
Actor and writer Maryam Hamidi was checking her emails in July when she spotted an advert from casting website Spotlight looking for performers to audition for the role of "Chow Mein Slave of the Ring" in Aladdin at the Bedworth Civic Hall. She posted a screengrab on Twitter, describing it as another example of panto normalising casual racism.
The advert was quickly removed and the theatre apologised, changing the name of this character and that of another, PC Pong Ping. Local newspaper The Coventry Telegraph canvassed for opinion on social media and reported that the majority of respondents did not think the character names were racist.
Hamidi is not the first actor to speak out about the portrayal of race in pantomime. In 2017, Irene Ng expressed serious concerns in a panel event hosted by theatre industry publication The Stage.
All the humour […] was taking the mick out of people in a derogatory way, whether someone is blind, handicapped, 'ugly', or of a different race.

Irene Ng
She said: "Pantomime makes the dominant culture, or colour, feel better about themselves. All the humour was taking the mick out of people in a derogatory way, whether someone is blind, handicapped, 'ugly', or of a different race.
"And why do I always find that happens to be people of the Chinese race? Whether that's Siamese twins, whether that's Wishee Washee, [the character] always has bad features or a terrible accent, and that in itself is supposed to be the joke."
Earlier this year Daniel York Loh cited two examples of friends who were extremely offended by different versions of Aladdin. He has little time for the position that this is justified as a reaction to political correctness. Loh argued: "Are we actually arguing that racist jokes and reducing other races to exotic fancy-dress costume is wholesome entertainment for Caucasian families in the British provinces?"
The character names in Aladdin are rooted in dated attitudes towards Chinese people. Wishee Washee is a clear reference to Chinese business interests, says Dongshin Chang, an academic who has written on the portrayal of Chinese characters on the London stage.
He wrote: "Due to a combination of factors (discrimination, low capital requirements, minimal contact with customers), the laundry trade was indeed the main business of the British Chinese in the early 20th Century.... Underneath the fun and entertainment, the association with laundry may also be considered a manifestation of prejudice."
Panto history expert Simon Sladen notes in a piece for The Stage that the Hackney Empire, however, is adapting the character names in Aladdin this year to make references that will have resonance for the local audience. In place of Ping and Pong or Sergeant Pingpong and PC Pongo, Sergeant Dumplin and Constable Ackee are used, referencing Caribbean dishes.
Director Susie McKenna told him: "The change of names was deliberate. We set our stall out from the beginning about being multicultural, diverse and modern. Pantomime has to move on and evolve as tastes change, attitudes change and cultural politics change."
McKenna has also long sought to have diverse casts in her productions, which she told The Guardian was a revelatory idea back in the 1990s when "the only black actors in panto were token baddies".
Italian origins
In this film, Michael Grade explores the history of the traditional theatrical character in Britain.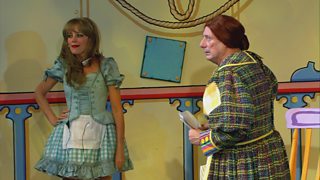 Stereotyping or opportunity?
The portrayal of race is not the only question raised by critics of panto. Writer Eugene Grant has written about his opposition to dwarfs in panto, arguing that they create an image which is limiting for people who look like him.

He explains: "Stereotypes don't allow you to be yourself because others define your power and identity for you... I also think the depictions of dwarfism in Snow White are degrading. Think about it: seven dwarf people who are each so one-dimensional in character they can literally be summed up as a single emotion or state of being."
The depictions of dwarfism in Snow White are degrading

Eugene Grant
Dwarf performers have not been cast by Qdos Entertainment, who are responsible for dozens of major pantomime productions every year, since the 2010/11 season. That does not mean characters they once played have disappeared, though, rather these parts are going to non-dwarf performers.
It has been claimed that this change is made because dwarf actors are, on average, paid significantly more for pantomimes. The company told The Stage they have no policy on the issue, with casting on each show "considered individually as part of the creative process".
Peter Burrows of Willow Management Dwarf Acting Agency told The Guardian that there was an economic impact to consider. He said: "When they [dwarf actors] are available and they're still using tall people, I think they're putting short people out of work."
Warwick Davis, co-runs the agency with Burrows as well as performing in on film, TV and stage, believes this change is not what the audience wants. Davis argued: "Some people say it's a matter for political correctness but if you ask the audience, they'd much rather have a short actor than other performers on their knees."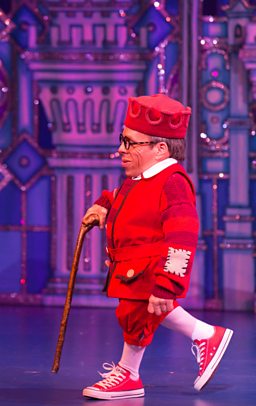 Warwick Davis starred in Snow White and the Seven Dwarfs in 2012 | Image: Bettina Strenske / Alamy
Innuendo a no-go?
While sexual innuendo is an established part of pantomime, producers have been known to make amendments to avoid offence. Qdos Entertainment removed a routine from their 2017 shows in which a male character looks up a female performer's skirt.
I've seen a lot of pantos in my time but this was a step too far

Anonymous teacher
Managing Director Michael Harrison said: "Last Christmas it was in nearly every panto in the land, including the Palladium, but this year it just feels wrong. What I have not done and what I won't do is change any jokes, as I don't believe there is a link between sexual harassment and pantomime. Nobody touches anybody in pantomime."
That change did not stop one of their shows at Manchester Opera House from hitting the headlines for its sexual content. Natalie Wood submitted an official complaint that Dick Whittington, starring the Krankies and John Barrowman, was "too smutty".
A teacher who took her class to see the show said she felt the same way. She told the BBC: "I've seen a lot of pantos in my time but this was a step too far - all the staff agreed it was wholly inappropriate." Qdos stated that double entendre was part of the panto tradition and there was no intention to cause offence.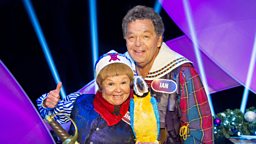 The Krankies are in semi-retirement but still perform panto
Evolution of the format
That's not to say, however, that these critics are looking for pantomimes to disappear completely. In his article Daniel Loh York is clear in his desire for the format to adapt.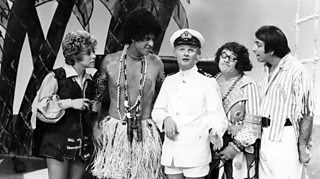 Robinson Crusoe was the BBC pantomime in 1975 but is rarely performed now
He wrote: "Nobody's looking to dumb down panto. By acknowledging and taking into account the cultural melting pot that is modern Britain, I would argue that we're asking it to be more appreciative of complex racial and societal nuance."
In some cases the answer might be avoiding some particularly troubling productions altogether. For example, panto history expert Simon Sladen pointed out that there is only one professional adaptation of Robinson Crusoe happening in 2018.
The other option is to keep traditional titles but remove the offensive parts of the content. (Sladen also argues that Crusoe has been staged relatively recently but with changes to the problematic Friday character.)
While panto has always played with gender roles on the stage - male performers have long played female roles in the genre and vice versa - a number of shows this year are exploring different approaches.
In Sevenoaks, Danny Beard's take on the dame in Dick Whittington, the Spirit of London, will be neither male or female.
Beard, who came to fame in Britain's Got Talent, says: "[A] gender-neutral [person] is someone who doesn't conform to the stereotype or the rules that society traditionally set out in gender. This year it has been written into the show, which is really special. It has a platform which it wouldn't have. This is why I wanted to work with the pantomime producers - they wanted me to be a magical character. I think it's important that it's a hot topic at the moment. It's a reflection of what is going on in the world."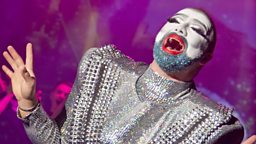 Danny Beard is a character performed by Daniel Curtis
In Scotland Johnny McKnight has developed a strong reputation for spinning traditional Christmas stories on their head with shows like Alice in Weegieland and Miracle on 34 Parnie Street. His new show at the Tron, Mammy Goose, features a same-sex romantic storyline.
Jack falls for a boy, which is something I thought it was time for

Johnny McKnight
He told The National: "Jack falls for a boy, which is something I thought it was time for. There's a reason that Scotland is leading the way on LGBT; we're very fortunate to be in that position and it's something worth celebrating."
A Pair of Pantos, which is touring parts of England, is mash-up of two traditional shows - Dick Whittington and Jack and the Beanstalk.
Writer Hester Chillingworth says: "Having found myself watching mainstream pantos for a few years in a row recently, I became really uncomfortable with how many rely on devices of casual transphobia (as well as racism)... This is my attempt to offer an alternative to a traditional pantomime – one which celebrates the form and the joy of the playfulness, but which refuses to rest lazily on problematic and debasing depictions and gags."
Professor Hugh Hodgart spent many years working on Christmas shows in Glasgow and Edinburgh and is now fostering the next generation of performers at the Royal Conservatoire of Scotland. Ducking out from technical rehearsals for their Christmas show, Peter Pan, he was wholeheartedly supportive of the evolution of the format.
He said: "I'm really fascinated by the changes that have been happening recently. There's a new generation of artists coming through for whom these questions of gender and race are much more in their practice and in their DNA than it was for my generation. It's a natural process of development here just like there is in society.
"That's not to say there aren't the people who feel it's due to an excess of political correctness. But ultimately, when we start to break the rules and change the rules, it's never a bad thing – it leads to some exciting storytelling."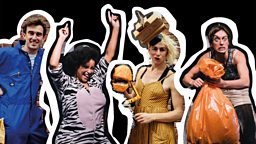 Pair of Pantos is pitched as a transpositive, all-gender-inclusive, queer pantomime
More festive offerings from BBC Arts