Main content
The Late Junction Albums of 2016
As the curtain closes on 2016, the Late Junction presenters and producers gathered at Radio 3 HQ for several hours of vigorous debate and discussion about the rich musical pickings the year has offered...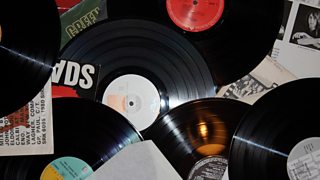 Here's the shortlist of our discussions: the 12 best albums we've encountered during the past year – albums which demonstrate just how intently musicians have been listening, in 2016, both to each other and to the world. These 12 best albums deliver music which, during a turbulent 2016, is infused with grit, noise and anger, as well as delicacy, beauty, transcendence, and total commitment. Join Verity Sharp for a special episode of Late Junction on Wednesday 28 December featuring music from all 12 selections.
Albums of 2016: The Late Junction List
Kaitlyn Aurelia Smith – EARS
(release date: 1 April on Western Vinyl)
Ambient music miniatures from composer and Berklee College of Music graduate. Kaitlyn also played a fantastic Late Junction collaboration session with drummer Greg Fox in July.
Carlo Mombelli – I Press My Spine To The Ground
(release date: 5 April on Carlo Mombelli)
Hauntingly beautiful South African music woven with improvisations, soundscapes
and poetry. Carlo Mombelli's collaborators are Mabuso Khoza, Kyle Shepherd,
Kesivan Naidoo, and Brenda Sisane.
Stian Westerhus – Amputation
(release date: 29 April on House of Mythology)
A solo album from the Norwegian guitarist and (now) singer, filled with noise and
melody, damage and defeat. Westerhus himself describes it as "music in a cracked
mirror".
Idris Ackamoor & The Pyramids – We Be All Africans
(release date: 27 May on Strut Records)
A spiritual jazz odyssey, 40 years on from the break-up of the original Pyramids. Idris Ackamoor has recorded a Late Junction collaboration session with London rapper Kojey Radical, to be broadcast early 2017.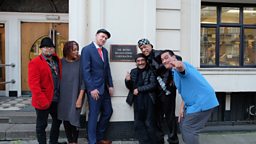 Idris Ackamoor & The Pyramids in session at BBC Maida Vale Studios
Angharad Davies & Tisha Mukarji – ffansïon | fancies
(release date: 1 July on Another Timbre)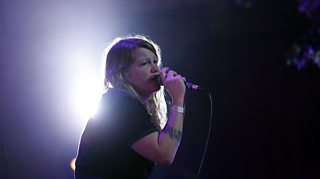 Kate Tempest
Intense violin and piano improvisations from long-acquainted collaborators. Davies also recorded a Late Junction session with Tom Arthurs and James Yorkston in November.
Kate Tempest – Let Them Eat Chaos
(release date: 27 September on Lex Records)
Performance poet Tempest reunited with producer Dan Carey to follow up her Mercury-nominated debut "Everybody Down" with this, a funny and angry concept album about the alienated lives of residents on one South London street.
Sarathy Korwar – Day To Day
(release date: 8 July on Ninja Tune)
Debut album from the percussionist and producer, fusing traditional folk music of the Sidi community in India with jazz and electronics. Korwar played live for Late Junction at the Southbank Centre in October.
Julius Eastman – Femenine
(release date: 16 September on Frozen Reeds)
The first release of Julius Eastman's Femenine, and also the work's only known recording, documenting a 1974 performance by the S.E.M. Ensemble (with the composer on piano) which has lain unheard for decades.
Jenny Hval – Blood Bitch
(release date: 30 September on Sacred Bones Records)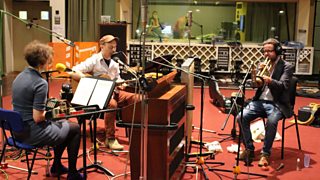 The most atmospheric release yet from prolific Norwegian artist Jenny Hval – an investigation of menstrual blood. The album is also highly influenced by 1970s horror films, and Virginia Woolf.
Tanya Tagaq – Retribution
(release date: 21 October on Six Shooter Records)
Fourth and best album yet from Canadian Inuk musician, inspired by climate change and environmental devastation, and featuring a Nirvana cover and a collaboration with the rapper Shad.
Laura Cannell – Simultaneous Flight Movement
(release date: 21 October on Brawl Records)
Invigorating and mesmerising pieces for fiddle and recorder, exploring the spaces between ancient and experimental. In March Cannell also played a wonderful Late Junction session with Rhodri Davies.
A Tribe Called Quest – We got it from Here... Thank You 4 Your service
(release date: 11 November on Epic Records)
Packed with incredible rhymes, brilliant jazz samples, and guests including Kendrick Lamar, Anderson Paak, Busta Rhymes, Elton John, and Jack White. Dynamic, fun, and poignant … the world needs this record right now.