Main content
Shakespeare's former clown Will Kemp dances to Norwich
Will Kemp was one of Shakespeare's actors, he specialised in comic roles such as Falstaff.
In December 1598, he was very well known, possibly better than Shakespeare and one of a core of eight actor-shareholders in the group of players that included Shakespeare, in the Lord Chamberlain's Men.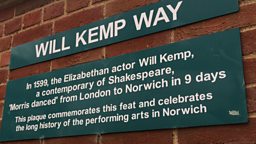 A plaque commemorating Will Kemp's dance.
After a short time, possibly after a disagreement among the members of the troupe, and possibly as Shakespeare ushered in a new kind of comic character, he parted company with the group.
He began early on a Monday morning, February 10, 1599, starting off from the Lord Mayor's House in London in front of a great crowd.
In what appears to be a piece of self-promotion, Kemp Morris-danced the 125-miles from London to Norwich, via Essex and Suffolk, and wrote an account of his journey called 'Nine Daies Wonder'. (The journey actually took him twenty-three days.)
In the book "Notes from Will Kemp: Shakespeare's Forgotten Clown" by Chris Harris, we see Kemp's route and antics detailed in hilarious clarity.
He began early on a Monday morning, February 10, 1599, starting off from the Lord Mayor's House in London in front of a great crowd.
He strained his hip on the second full day of the dance, enduring "exceeding paine"; fell into a pothole near Braintree, and seems to have had his spirits raised by a number of local country girls who danced with him en route.
Kemp finally arrived in Norwich to be formally welcomed on Saturday March 8
Kemp finally arrived in Norwich to be formally welcomed on Saturday March 8th 1599. Crowds filled the market place, musicians played and he was given a lyrical welcome in the form of a poem.
Kemp writes: 'Satterday no sooner came but I returned without the Citty through Saint Giles his gate: and beganne my Morrice where I left at that gate, but I entred in at Saint Stephens gate, where one Thomas Gilbert in name of all the rest of the Cittizens gaue me a friendly and exceeding kind welcome'.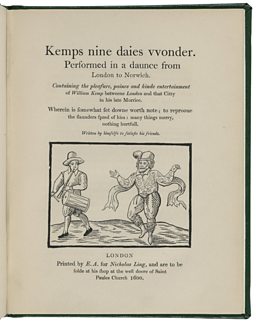 Will Kemp dance book frontispiece (c) Folger Shakespeare Library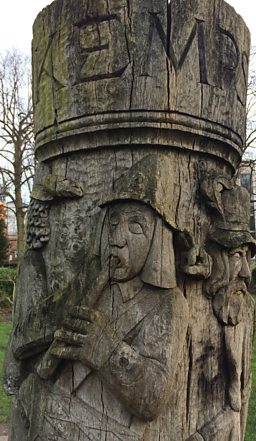 Wooden engraving of Will Kemp. Artist: Mark Goldsworthy
Shakespeare on Tour
From the moment they were written through to the present day, Shakespeare's plays have continued to enthral and inspire audiences. They've been performed in venues big and small – including inns, private houses and emerging provincial theatres.

BBC English Regions is building a digital picture which tracks some of the many iconic moments across the country as we follow the 'explosion' in the performance of The Bard's plays, from his own lifetime to recent times.
Drawing on fascinating new research from Records of Early English Drama (REED), plus the British Library's extensive collection of playbills, as well as expertise from De Montfort University and the Arts and Humanities Research Council, Shakespeare on Tour is a unique timeline of iconic moments of those performances, starting with his own troupe of actors, to highlights from more recent times. Listen out for stories on Shakespeare's legacy on your BBC Local Radio station from Monday 21 March, 2016.
You never know - you might find evidence of Shakespeare's footsteps close to home…
Craig Henderson, BBC English Regions
Shakespeare 'criticism' of Kemp
Either as a stunt, or a piece of self-promotion, in March 1599 Kemp danced from London to Norwich and wrote a book about it called "Nine Daies Wonder". On the way he passed through Essex.
HAMLET:… let those that play your clowns speak no more than is set down for them (Act 3 sc 2)
So why did Shakespeare's former fool set off dancing from London to Norwich? He left Shakespeare's company after a falling-out. So was it some sort of protest at not getting the parts he wanted, or over the big split?
Sally-Beth MacLean, General Editor of Records of Early English Drama has a theory: "Will Kemp was a star in his own right and I doubt the dance was in protest. He was independent-minded and had taken his own road on the continent during a tour with Leicester's Men in 1586 while his fellows went to Elsinore."
Is this line from Hamlet aimed at William Kemp, as Hamlet gives tips on acting and seems to criticise clowns for unnecessary improvisation?
Does it hint at why Kemp was no longer in Shakespeare's company by 1599, a dig perhaps at Kemp's unwanted improvisations?
Kemp's arrival into Norwich
Will Kemp was reaching the end of his eventful 125-mile jig from London to Norwich.
He'd started out on Monday Feb 10th 1599, at 7am. A large crowd had gathered as he began his trek from the Lord Mayor's house. Kemp was a real star of his day.
Accompanied by a musician, a servant, and someone to 'oversee' the marathon jig, Kemp made a speech before setting out through Whitechapel.
His ensuing tour through Essex, Suffolk and then on to Norfolk brought out the crowds. Indeed, he was often mobbed en route and at some points had to hide – at one point locking himself away in a room to escape their attentions.
A number of local characters danced with him along the route, from young country girls – whose company he appears to have enjoyed - to butchers and jesters.
Finally, on March 5th he had Norwich in his sights and in 'Notes from Will Kemp: Shakespeare's Forgotten Clown' (Kylin Press) writer Chris Hassis charts how Kemp set off for Norwich accompanied by five young men who ran all the way.
When he finally reached Norwich he was greeted by the Mayor and agreed to rest for a couple of days - giving them time to assemble the knights and gentry of the city - before they enacted a triumphant end to the jig.
The nation's greatest performing arts institutions mark 400 years since the Bard's death
Shakespeare on Tour: Around Norfolk
Shakespeare's players paid 40 shillings not to perform
Shakespeare on Tour: Around the country
Plus, the small Cheshire town that attracted Shakespeare's players