Main content
Nick Grimshaw's Cultural Selfie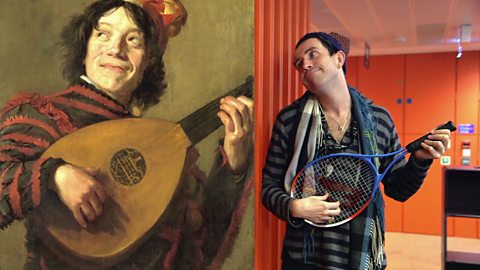 The Radio 1 DJ recreates Frans Hals' The Lute Player for the art campaign.
BBC Radio 1's Nick Grimshaw is the latest star to channel his arty side in the VanGoYourself campaign - which encourages you to recreate a famous painting and take a cultural selfie.
And showing how easy it is to do, he's exercised a spot of artistic licence, swapping a lute for a tennis racket.
Hundreds of people have taken part already - you can find out how to get involved and see more brilliant examples at the VanGoYourself website.
Below, Nick has chosen four examples which caught his eye, and you can also watch a special film made by BBC Arts showing how a selection of participants restaged their own masterpieces.
King Henry VIII, Unknown Artist, after Holbein vanGo'd by Tim March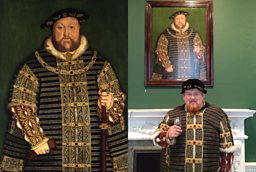 Nick says: "Now, this is really quite something, I mean, he actually looks him. I think that might be the exact same outfit from the image. He's added a drink, which I do like to see."
Agostina Segatori Sitting in the Café du Tambourin, Vincent van Gogh (1853-1890) vanGo'd by Faith
Nick says: "This one I like. This is a simple one to recreate - all you need is a table, a pint and a fag. She has substituted the pint for wine but that's to her own artistic taste. No umbrella but she has swapped it for a handbag which is a modern take on that image - I like it."
Oedipus and the Sphinx, Gustave Moreau (1826-1898) vanGo'd by Denys, Eugenie & Olenka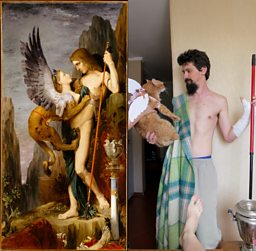 Nick says: "This one's good because I really like utilising a mop and a cat in a picture. He's got a broken arm I see but that's not got in the way of his artistic temperament. He's battled through the pain to hold the mop and he's got a live cat in there. Cats don't like to be held like that so that must've taken a while. And the beard! There's not a beard in that picture, he could've shaved, so not fully committed to Van Go-ing himself."
The Last Supper, Leonardo da Vinci (1452-1519) vanGo'd by Darren Yeomans from Warwick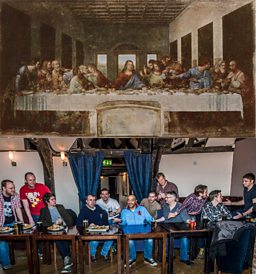 Nick says: "One of the most iconic images of our time, imitated over and over again for centuries but this time with a group of proper lads. Some of the lads, so laddy, they're not even having a meal, they're just having a pint. Good attention to detail, they're all looking the right way. The dude in the middle playing Jesus is wearing a tracksuit which is quite something. All in all, probably my favourite."