Main content
What's the 500 Words experience like?
When I entered 500 Words I really didn't think that I could claim the bronze medal. Finding out that I was a winner left me speechless; it was an incredible experience and a huge achievement for me any many of the finalists that took part. From entering with my story, to getting the email stating that I had got into the top 50, and attending the final in which I came 3rd.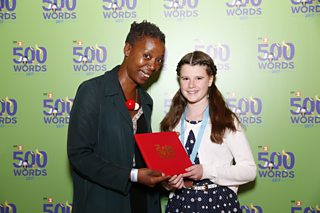 Evie with Noma Dumezweni at the 500 Words Final
The whole event was so surreal

Evie McKeon, Bronze winner, 2017
The whole event was so surreal and I am proud that I have managed to raise awareness of Guide Dogs across Britain and how life for the blind is, while thoroughly enjoying myself. Wining my height in books was also great and I haven't stopped reading since, but better still they were all news books to me and I hasn't read a single one before.
Due to this I have been introduced to new series and different genres which has been a nice change. Meeting all the celebrities and my fellow finalists was also marvellous and I made some friends too.
The day was just flawless apart for the early start (which I hated) but it was really worth it.
For those of you stuck on ideas of what to write about, a story written from the heart or an experience you have witnessed is a good place to start.
Sometimes true stories are better than fictional ones and can convey a meaningful message, stirring up people's emotions. I would also love to say thank you to BBC Radio 2 for giving me this amazing opportunity that you can be a part of too.
More from 500 Words
Honorary 500 Words Judge HRH The Duchess of Cornwall appears in our special animation.

Everything you need to know about Radio 2's short story-writing competition for kids.