Main content
Ali Plumb's Best 'Underseen' 21st Century Thrillers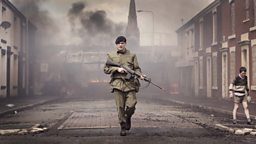 The past two decades have given us some brilliant, bold, gritty thrillers that properly get the blood pumping and occasionally leave fingernail marks in our armchairs. You know, in a good way.
There are so many, in fact, that whittling them down to just five was nigh-on (if not flat-out) impossible, but with the added quirk of them being 'underseen' - that is to say, not massive hits at the box office and generally a darn sight indier than the likes of Bourne, Mission Impossible, Bond and co - I've just about managed it.
So sorry, Drive, Shutter Island, Collateral, The Prestige... I love you all, but you're not on this list, you're just too well known. And if you're a "sci-fi thriller" like the amazing Time Crimes or Predestination or Ex Machina, no dice, sorry.
And horror too, of course, which rules out the likes of Don't Breathe or the outstanding Get Out, or You're Next, or Kill List, or even The Babadook. And same goes for neo-westerns like my beloved and oft-recommended Hell Or High Water or Wind River.
So after all that faff, here below are the 'purer' thrillers - though if you're interested, be sure to note down all these ones I've mentioned here and in my 'honorable mentions' list as you won't be disappointed, trust me.
Third party videos may contain adverts.
If you enjoy a hefty dollop of black humour with your action thrillers, Headhunters is just the darkly funny Norwegian crime drama you've been looking for. The bare bones of the plot is this: a corporate recruiter (Aksel Hennie) lives a secret double life as a professional art thief, and his next hit may be the one that becomes his undoing. Expect twists, gore and some very bloody gags as his mark (Nikolaj Coster-Waldau) refuses to go down without a fight. Also notable for being Norway's most successful film of all time Headhunters is one of those old-school, grown-up thrillers blessed with a wicked sense of humour. Basically, if you've ever been addicted to any Scandi noir like The Bridge or Trapped, don't think twice and watch this film.
Third party videos may contain adverts.
An astonishing directorial debut from Yann Demange, historical thriller '71 centres around a British soldier (Jack O'Connell) who loses his unit during a Belfast riot at the height of The Troubles in 1971. Crafting a film that feels real and has something important to say whilst also delivering the action thrills genre fans expect is no mean feat, which goes to show why '71 is currently sitting at a 95% approval rating on Rotten Tomatoes. Demange rightly received a lot of the praise at the time for his impressive direction, but O'Connell also delivers a powerful, brutal performance throughout the movie, holding it up with his bare hands in almost every frame. There's so much emotion here, and so much physical 'wallop' - my technical term - it's hard not to be moved by this tight, taut 99-minute drama.
Third party videos may contain adverts.
Straight off the bat, I admit that Blue Ruin isn't going to be for everyone. An indier-than-indie, kickstarter-funded bleak-as-hell revenge story about a homeless man killing his parents' murderer after his early prison release isn't exactly "family friendly", but then again, we're looking at my favourite offbeat thrillers here so maybe you'll just have to forgive me.
The directorial debut of the very talented Jeremy Saulnier - who's since gone on to give us Nazi horror-thriller Green Room and Netflix's Hold The Dark - here is a very impressive, properly nasty little film (in a good way) about all-consuming hatred, survival and the power of family. Your star here is the emotionally-affecting Macon Blair (Logan Lucky, The Florida Project), who's one of those actors you may not know the name of but really should keep an eye on - if only because he's a writer-director as well, so if you enjoy Blue Ruin (if 'enjoy' is the right word) then look out for I Don't Feel At Home In This World Anymore, also on Netflix, which stars Melanie Lynskey, Elijah Wood and Jane Levy.
2 | Animal Kingdom (2010)
Third party videos may contain adverts.
Here's a real gem for you. Critically-lauded and stuffed full of incredible acting talent - Ben Mendelsohn, Joel Edgerton, Guy Pearce and Jacki Weaver to name but four - Animal Kingdom was a minor sensation when it came out a decade ago, even earning Weaver an Oscar nomination for her fierce and powerful portrayal of Janine 'Smurf' Cody, the matriarch of the Melbourne mob.
Loosely based around the real-life story of the Pettingill crime family and by the 1988 Walsh Street police shootings, writer-director David Michôd (The Rover, The King) delivers a hyper-tense, sweat-inducing thriller with characters you feel like you truly know. And while Weaver deserves all of the praise that was heaped upon her, the other other stand-out star here is Ben Mendelsohn, his incredible screen presence catching the eye of pretty much every Hollywood casting director, seeing him crop up in the likes of The Dark Knight Rises (2012), Rogue One (2016), Darkest Hour (2017), Ready Player One (2018) and Captain Marvel (2019) in the ten years since Animal Kingdom came out. If you've ever admired his work, now is the time to return to Oz and and see the movie that got everyone talking about him.
Third party videos may contain adverts.
Jake Gyllenhaal has this uncanny gift of picking interesting, dark, provocative thrillers. I adore Nightcrawler, but before we get into that, a shout-out to the likes of Enemy, End Of Watch, Nocturnal Animals and especially Prisoners, which really packs a punch. Seriously, if you've not seen Prisoners yet, put it on your 'to-watch' list with the rest of the movies I've mentioned here as it really is something special. If you need more encouragement, let me remind you it also stars Hugh Jackman, Viola Davis and Paul Dano, was shot by the legendary cinematographer Roger Deakins and was directed by one of my favourite directors working today, Denis Villeneuve, who's since given us Arrival, Sicario, Blade Runner 2049 and, well - what do you know? - Jake Gyllenhaal's Enemy. In short: Prisoners is great. Watch it.
But back to Nightcrawler. This is the directorial debut of Dan Gilroy, who before this wrote the likes of Freejack (1992), Real Steel (2011) and The Bourne Legacy (2012) - but don't let that cloud your thoughts on this particular film: here's a messed up, edgy thriller about modern journalism, the gig economy and what happens when a sociopath (played by Gyllenhaal) gets caught up in the ethically treacherous world of ambulance chasing, driving around LA in the never-ending pursuit of the most provocative, incendiary and ideally gory news TV footage out there, whether it's road traffic accidents, burglaries or murder.
Gyllenhaal is outstanding as the fascinatingly creepy Lou Bloom, whether he's spouting out self-help business speak - "My motto is if you want to win the lottery you've got to make money to buy a ticket" - or breaking into someone's home or having a breakdown and smashing up a mirror.
There are some many layers and levels and curious moments to enjoy, with our lead actor obviously throwing himself headlong into the role, losing 20 pounds, putting his hair into a man bun and developing a speaking intonation that really wriggles under your skin. Rene Russo is also superb here as the news producer willing to buy Bloom's no-doubt illegally acquired footage - even developing a properly uncomfortable sexual relationship with him, yeesh - as is the late, great Bill Paxton and the always-excellent Riz Ahmed.
Shot for barely anything over just a few weeks, this was a hard, tough shoot that paid off, eventually earning Gilroy an Oscar nomination for Best Original Screenplay and - if this is comparable to an Academy Award nod, which I admit it's not - ending up my favourite film of 2014. Go see Nightcrawler. Just... maybe don't watch it with the kids.
10 Honourable Mentions
If you're looking for a few more to add to your list...
Before The Devil Knows You're Dead (2007)
Third party videos may contain adverts.
Memories of Murder (2003)
Third party videos may contain adverts.
Third party videos may contain adverts.
Third party videos may contain adverts.
Third party videos may contain adverts.
The Disappearance Of Alice Creed (2009)
Third party videos may contain adverts.
Third party videos may contain adverts.
Third party videos may contain adverts.
A History of Violence (2005)
Third party videos may contain adverts.
Third party videos may contain adverts.
Wondering what else to watch?
Radio 1's film critic Ali Plumb has put together his favourite TV sitcoms which are available to watch across all major streaming platforms: BBC iPlayer, Netflix, Amazon Prime and Now TV.
Ali Plumb has been given the very difficult job of having to curate a mixtape of the very best songs from greatest movies.
Ali Plumb reviews all the biggest releases and goes behind the scenes with Hollywood stars.