Main content
Radio 4 meets Ravensbourne (to talk about the weather)
The view from Radio 4
At Radio 4 digital we're playing around with visuals and how you might be encouraged to try a new bit of radio by the way we illustrate it online.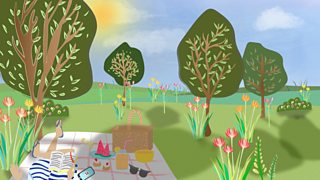 Britain and the Sun by Foong Mei Pang
We're working with different artists to make radio stand out and we're always on the lookout for new people to work with.
Ravensbourne college has a great reputation for producing the next generation of digital creatives so we asked some of their second-year students if they'd like to read some radio scripts and see what they inspired.
The Radio 4 series A British History in Weather seemed to be the perfect place to start; everyone's interested in the weather, right?
The radio production team in Bristol were delighted to go along with it and listened along with us while the students pitched their various ideas for a set of very different short animations.
On this page you can see the results.
It was a pleasure to collaborate with them while they grappled with the complexities of a big media organisation and we had a privileged look at how their brains work. All under the guidance of their tutors Dan Dalli and Mike Smith.
Take this chance to look at their work as we reckon you'll be seeing it on far bigger screens in the future.
Rhian Roberts
Editor, Digital, BBC Radio 4.
The view from Ravensbourne
This project was an exciting and challenging experience for students as well as staff.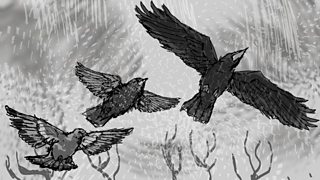 Winter In Durnover Field by Natasha Kirke
The production schedule was fairly tight but all the students responded professionally and came up with a variety of fun and experimental animations.
Perhaps our most challenging part of the production was to reduce and simplify each radio programme to work within a short visual narrative.
Once this was achieved, the students' ideas poured out on paper and quickly jumped across into moving image sequences and snappy, varied animations.
At this point of the production we also benefited from the collaboration from our sound and music courses and their work enhanced the visual mood and message for each of the animations.
At each stage of the production our students kept in touch with the Radio 4 team and the regular client meetings allowed the students to gain valuable lessons in how to present and sell their work.
The final result is a testament to all the different personalities and creative visions of each student and it was a pleasure to mentor and guide the students towards their final finished films.
Mike Smith
Animation Unit Leader, Ravensbourne