Main content
World's Busiest Maternity Ward
Producer/director Elena Cosentino (pictured) on the making of 'World's Busiest Maternity Ward', part of This World's three part series on population.
As we put on green scrubs to enter the delivery room and film the birth of Rosaly De La Rosa's seventh child, those of us in the team who had never witnessed a birth before mentally prepared for the drama of labour and birth.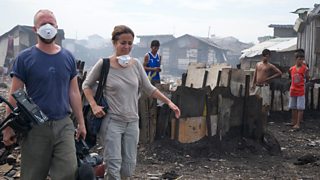 A first timer myself, I imagined the heart-stopping screams piercing the humid Manila night.
With 24,000 babies delivered every year to Manila's poorest mothers, Fabella Public Hospital promised to be a no-frills experience. No gas and air or epidurals. No expectant fathers tenderly holding their wives' hand encouraging them on.
We'd met mother of six Rosaly De La Rosa a few days earlier. Presenter Anita Rani had struck a warm rapport with the 36 year-old seamstress, so the hospital had granted Anita the unusual privilege of acting as her birthing partner.
Now Rosaly lay waiting to give birth with dozens of other pregnant women crammed up to five in a bed.
Not a groan or moan could be heard. Silent grimaces were the only tell-tale signs that the women were in the throes of full labour.
"Filipino women know there's no point in screaming or moaning," explained the supervising nurse on shift.
"Besides, when you are at baby number 7, like Rosaly, it all happens very quickly."
A few minutes later, Rosaly de La Rosa's healthy baby boy was born before our moist and incredulous eyes. His screams at entering the world were the only ones to be heard in the delivery room.
Tondo
We'd come to Manila to report on the spectacular economic boom of the Philippines, one of several Asian developing countries currently enjoying a time of increasing prosperity coupled with a little-reported but steadily declining birth rate.
If economic growth continues, and women continue having fewer children, analysts believe that kids born in poverty here today may become comparatively as rich as us in the West, by the time they reach middle age.
However, when we went to see where Rosaly De la Rosa lived, my mental storyboard for our documentary seemed to collapse like a pyramid of cards.
Tondo is Manila's biggest slum, home to over half a million people, many of them children. All of us in the team had been to some of the poorest corners of the earth, but Tondo was something else.
Built on and around Manila's rubbish dumps, Tondo is a gigantic squat of rickety buildings stretching for miles along the sea. Sewage water constantly floods the unpaved roads, forcing poeple, often barefoot, to negotiate their every move through festering puddles and rats.
Those locals who are not surviving on scavenging through the rubbish, work in makeshift huts at the northern edge of the slum, burning wood to make charcoal.
Thick layers of acrid smoke lingered at ground level forcing us to wear face masks. It seemed the whole place teemed with toddlers, their faces blackened by soot.
Extreme poverty appeared so rampant and the number of poor children so extraordinary that reconciling the horrors of Tondo with the rosy economic forecast for the country felt ludicrous.
But, just like it'd happened at Fabella hospital, Manila and Filipino people were to confound once again our perceptions and expectations.
In a side street of Tondo we met a 24 year old woman called Junalyn. One of 11 children, raised in Tondo, Junalyn had managed to get an internship at an international bank.
Though her charity-sponsored work experience was about to end, Junalyn had clear plans for the future. Finding a job, completing her studies, and getting her entire family out of Tondo. Only then she would consider having children and even then, only one or two.
The contrast between Junalyn's candor and resilience and the hellish backdrop to her seemingly far-fetched aspirations could not have been more striking.
As Anita interviewed her, we all quietly wept, in awe of the girl's dignified, determined and uncomplaining demeanor.
Makati
For Junalyn, Rosaly and the other poorest of the poor in the Philippines, a better life may not yet be within easy reach but it is in plain view.
Less than two miles from Tondo as the crow flies, new skyscrapers are cropping up on a weekly basis in the financial district of Makati.
It is here that the Philippines' economic boom can be seen.
Luxury malls, restaurants and international companies have been flocking to the posh districts of Manila, turning Makati into nothing short of a First World city within the city.
The brutal contrast between the uber-rich and the utterly destitute is not unusual in a developing country's capital, but the Philippines today is no longer the caricature nation of Imelda Marcos and her three thousand pairs of fancy shoes.
A new administration has been attempting to clean up the country's historically corrupt politics and encouraging, for perhaps the first time in decades, a new wave of confidence from investors around the world.
One of the results is an explosion of call centres, where hundreds of thousands of Filipino youngsters who'd never set foot in Makati before, now work day and night to gently assuage Western customers' complaints.
We visited one such call centres handling, among others, UK customers calls, at a fraction of the cost in Europe or America.
Some Westerners complain cheap labour in developing countries contributes to unemployment back home.
But a salary of £300 here throws a life-changing bridge between Tondo and Makati, signaling the onset of a middle-class.
As he wished goodbye to a customer from the English countryside, a 21 year old call centre employee smiled broadly.
"I am very happy. With this job I feed my entire family - he explained - and send 3 of my younger siblings to school".
Before taking the next call he concluded "I definitely have no complaints."
Anita Rani investigates rapidly growing populations in the developing world.

24 year old Junalyn travels from the slums of Tondo to the Makati business district for a job interview.

The head nurse in Manila's busiest maternity ward estimates that she has delivered 200,000 babies.