Main content
Inside Kwik-Fit
With nearly 40% of cars failing their MOT and maintenance costs so high, can we always trust the garages that inspect our vehicles?
We heard from a whistleblower from Kwik-Fit, one of Britain's biggest garage chains, who told us that some customers can sometimes be tricked into paying for work they don't need. They told us that if you "come on a quiet day, which we haven't sold much, and we need to hit our target we do everything to convince you to buy a lot of things you don't need to buy."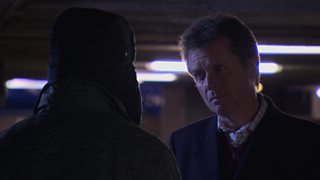 Not only that, they told us that when customers take their cars in for an inspection or check staff can sometimes cut corners and not complete them properly.
Serious allegations that we wanted to put to the test, so we sent ten cars into ten different Kwik-Fit garages for free brake and tyre checks. Before they were sent in all ten cars were examined by a forensic mechanic and fellow of the Institute of the Motor industry, John Dabek. After thoroughly examining each car, he put silicone gel marks on each car so he would know whether the car had truly been fully inspected.
After the cars came back from the branches, John inspected the cars again and discovered that Kwik-Fit had recommended over £700 worth of work on four cars that we simply didn't need, or at least not as urgently as they suggested.
Although we didn't disagree with all of Kwik-Fit's findings there was worse to come as John discovered that Kwik-Fit failed to complete the full brake and tyre inspection on seven of our ten cars. On a number of these cars he found that the silicone on the tyres was undisturbed, showing that the wheels had not been taken off to complete proper checks. In some cases they had even missed underinflated tyres and nails and screws lodged in the tyres.
We also sought a second opinion from Mark Brown, an automotive engineer and forensic car examiner. He also inspected the vehicles and agreed with John Dabek.
Kwik-Fit says that you'll be amazed at what they do. Bet you are now.
Company response

Kwik-Fit told us: Our highest priority is keeping our four and a half million customers safe on the roads, and helping reduce their motoring costs.
While we, and an independent expert, seriously disagree with most of the BBC's findings, we fully accept that in a few instances our staff could have been clearer with their communication; for this we apologise. We are intent upon improving how we communicate our advice to customers after inspecting their vehicle.
Any recommendations we make on replacing parts take into account manufacturers' information and advice from organisations such as the Royal Society for the Prevention of Accidents (RoSPA). We believe that this is a professional and responsible approach which focuses first and foremost on our customers' safety.
Our policy on recommending unnecessary work is very clear; we have zero tolerance and any proven cases result in disciplinary action. We have a whistleblower line on which staff can anonymously report any aspect of malpractice from their manager or colleagues and a senior management team will investigate and act on any reports.
Our centre staff are regularly audited and rewarded based on levels of customer service and compliance, measured through our own mystery shopping programmes. We expect high standards to be delivered across all areas of our business, and continue to make significant investment in training our staff We take customer feedback very seriously and guarantee to take any remedial action required, should our procedures be less than satisfactory, which was the case in a minority of the BBC's mystery shop exercise.
It is notable that our customer complaints have fallen by 28% over the last year and we are proud of a customer satisfaction level of 98%.
We are very confident that our advice regarding the rear shock absorbers was correct and we consider that our position is supported by the guidance from two leading independent manufacturers and the RAC. We have made clear to the BBC that we are willing to pay for an independent laboratory to assess the condition of the shock absorbers to put our diagnosis to the test. In fact, we have offered this on three separate occasions, but the BBC has not accepted this offer nor has it provided any reasons for not doing so. Our offer to the BBC remains open.