Main content
5 live at Queen Elizabeth Hospital Birmingham
The majority of us will have visited or been patients at a hospital at some point in our lives; but what is it like behind the scenes?
For 24 hours, 5 live broadcasts live from one of the UK's busiest hospitals - Queen Elizabeth Hospital Birmingham (QEHB) - to meet the people who make you better.
From the prosthetics lab to A&E, the cleaners to the CEO, our reporters bring you a snapshot of life at the hospital. Listen live from 6am on Thursday 21st January.
Please keep returning to this page, as it will continue to update with content throughout the day.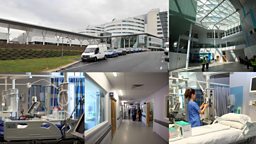 About the hospital
Queen Elizabeth Hospital Birmingham (QEHB), which is run by University Hospitals Birmingham NHS Foundation Trust (UHB), is recognised as one of the leading hospitals in Europe.
It is world-renowned for its trauma care and has developed pioneering surgical techniques for treating military casualties. In numbers…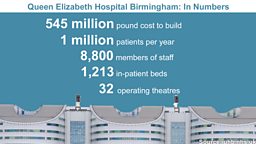 Keeping the hospital clean
The housekeeping staff help keen the hospital clean.
They are responsible for cleaning the environment, the patient surround, cleaning requirements around healthcare acquired infections, waste removal, curtain hanging, window cleaning, pest control and the washroom.
They also provide patients with two beverage services each day and water jugs.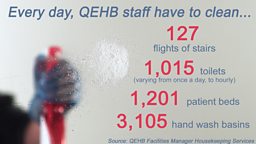 The hospital screens all patients admitted to the hospital for the superbug Methicillin-resistant Staphylococcus aureus (MRSA).
The only exceptions are patients who are going to have endoscopy, minor surgery for "lumps and bumps" or eye surgery.
When people get treated for MRSA before they have their operation they recover much better, and the chances of other patients becoming infected are greatly reduced.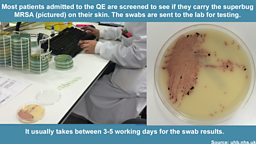 Inside the hospital
Our presenters and reporters find out how departments run and talk to patients and staff at all levels, from the people who clean the wards, to nurses and consultants, to the chief executive.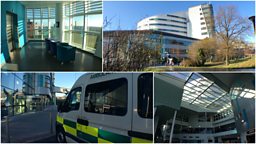 At the QEHB burns centre, the walls are adorned with pictures of icy scenes - in order to help burns patients heal quicker.
Burns specalists Professor Steve Jeffrey, and nurse Liz Shale, said they chose the designs to "aid wound healing".
They explained to 5 live's Nicky Campbell why other decorations, such as mirror placement and use of patient photos, could help burns patients come to terms with their injuries.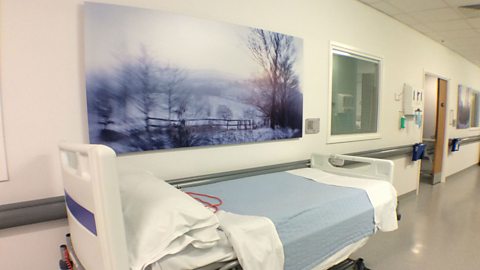 Burns specialists at the QEHB explain why icy pictures can help burns patients.
Helping patients feel more comfortable during a lengthy hospital stay, are Andrea and Marilyn.
With the aid of a hi-tec library trolley, they give out books and magazines to patients - who "always enjoy" seeing them.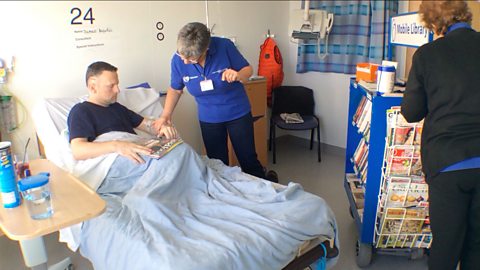 5 live follows the Queen Elizabeth Hospital's mobile library as it does its rounds.
Reporter Phil Mackie visited the maxillofacial lab, where workers known as prosthetists create artificial replacements for missing facial parts.
Prosthetist Stefan Edmondson and his colleague Andrew showed him some of the models they had produced, including a pair of 3D printed skulls.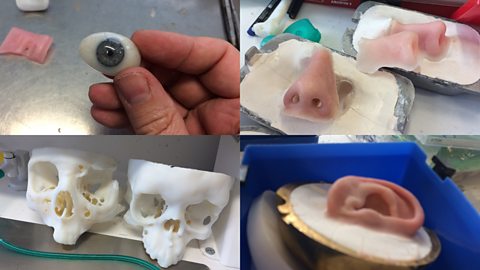 5 live's Phil Mackie looks around a workshop where 3D facial prosthetics are made.
Outside the hospital
Outside the QEHB, hospital outreach worker Talib has been using barber shops as a "gateway" to speak with "hard to reach members of the community".
Known as "condom man," once or twice a week Talib hands out condoms to people in the salon; who may not otherwise buy contraception from a chemist.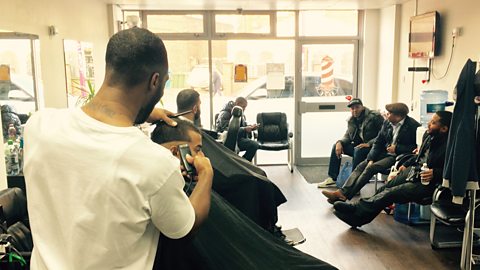 QEHB outreach worker Talib explains why he uses barber shops to teach people about STIs.
The Queen Elizabeth Hospital Birmingham also treats military casualties.
Private Karl Hinett was 19 when he almost died during an operation in Iraq in 2005.
He underwent five years of skin grafts and operations at Selly Oak Hospital - now replaced by Queen Elizabeth Hospital Birmingham.
Karl now does lots of charity work and said "the hospital gave me my life back and I intend to use it by helping them however I can".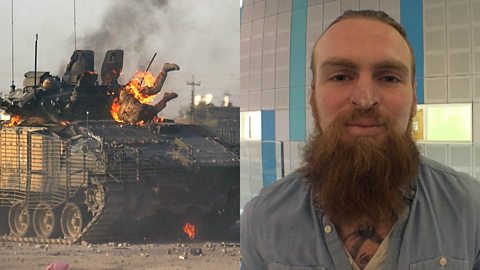 Private Karl Hinett was caught in a petrol bomb during an operation in Iraq.
Stephen Sutton: the teenage cancer patient who raised millions for charity
Jane Sutton has returned to the Queen Elizabeth Hospital Birmingham for the first time since her son's death to see how his legacy continues to raise money for the Teenage Cancer Trust.
Stephen Sutton's positive outlook on coping with a terminal cancer diagnosis led to him raising over £2m for the charity before he died in 2014 aged 19. His fund has now tipped £5.5m.
Ms Sutton told 5 live "It's quite emotional for me really but it's been lovely to come back on and meet some of the nurses".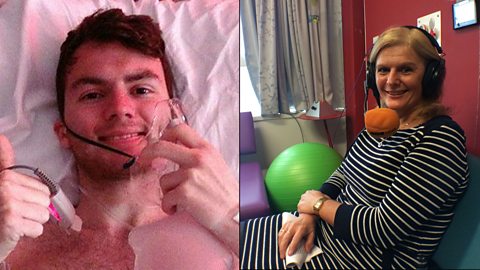 19-year-old Stephen Sutton raised millions after he was diagnosed with terminal cancer.
How to listen
5 live's broadcast from the Queen Elizabeth hospital will start at 0600 GMT on Thursday 21 January, to 0700 on 22 January. Click here to listen live.