Main content
4. Samuel Pepys and The Great Fire of London - part 2
Finding out about The Great Fire and singing songs based on well-known nursery rhymes.
The tutorial
Learn the song 'London's burning', which has some specially-written additional words. Then hear about the start of The Great Fire in Thomas Farrynor's bakery on Pudding Lane and listen to extracts from the famous diary of Samuel Pepys.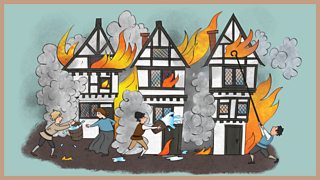 We also make two sound-pictures about the start of The Great Fire using body-percussion, clapping and mouth sounds.
Duration: 12' 31"
The song: 'London's burning' (vocal)
The famous nursery song is adapted with specially-written additional words and is sung as a round.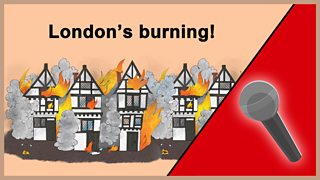 Once you have learnt the song using the vocal version you could try singing it with the backing track only.
Click here for the backing track version of the song or go to the Clips page.
Duration: 1' 02"
Firehooks in use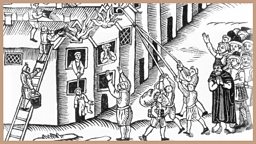 Buildings pulled down with firehooks to create a fire-break
Extracts from Samuel Pepys' diary
Listen to Samuel Pepys read from his diary about The Great Fire.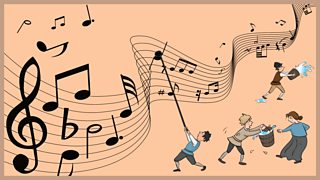 Pepys describes how he is woken in the night by his maid and goes out to find many houses already destroyed. He also describes how he later reports to King Charles II on the fire and the orders given by the king.
Duration: 1' 06"