Main content
Filming with the Wauja
This is the fourth series I've filmed with Michael and the first that covers just one country - says John Paul Davidson, Series Producer and Director.
We'd first talked about doing a series in South America back in 2005, but New Europe hove into view and it was such an exciting time to be exploring the former Iron Curtain countries that we kicked South America into touch. But it came back as good ideas do.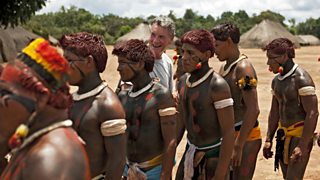 Early last year when we looked again at the idea of travelling the length and breadth of the entire continent, it seemed that we'd be doing Brazil a terrible injustice if we skipped through it. And Brazil, like Sahara or even Himalaya, is more than just a country. It is bigger than Australia, the size of the continental USA, and has just as much variety.
So we decided to spend the best part of a year in Brazil zig-zagging through rainforests, beaches, savannahs and megacities, generally trying to find the pulse of the country as it embarks on an economic boom and takes its place as a new superpower.
One of the most interesting places we visited was in the Upper Xingu. I'd first gone there in 1989 to make a film about traditional storytelling amongst the Wauja people who then numbered a couple of hundred. At the time their very existence was threatened. Despite being in a protected area there were frequent land grabs from farmers and the Wauja feared they would not survive.
I'd kept in touch with them intermittently through an anthropologist I'd worked with there, but it was still a shock to discover when we started the complicated business of getting filming permission so that we could Skype them.
Things had moved on for the Wauja, and what they most coveted now was video cameras and an editing system. They had embraced the digital age and realized that they needed to record their culture for future generations. Not only would their films create this valuable record but they could also be used by the mass media if there were issues threatening their existence - not least the series of dams that are under construction on the Xingu River.
When we arrived in their village, its size and scale came as a surprise to me. Now almost twice as big as the last time I was there, with double the population, the huge cathedral-like houses made of thatch and bamboo were in immaculate condition. A few of them even had satellite dishes attached. The young men were not only computer literate but also very up to date, requesting the best editing hardware and software available.
In spite of embracing modern technology, it was gratifying to see their ritual life was as rich as I remembered it. Without any provocation they dressed up with feathers and the elaborate body paint that characterizes their rituals and started a series of dances that mirror some of their favourite myths.
And as we filmed them, they filmed us. It felt like a good exchange. At the end of the day there was much discussion about the relative merits of cameras, lenses, microphones and then how much of our equipment we could leave behind.
I expect Wauja-made films will soon be out there on YouTube, and they will prove a valuable resource in safeguarding both their lands and traditions.
Watch Palin try out the dance which has evolved from a self-defence martial art brought to Brazil from Africa.
With stunning images, Palin discusses how Brazil made him aware of why he travels.