Main content
Seven music legends we brought back from the dead
17 November 2017
Cool or creepy? Loving tribute, or shameless cash-in? As an arena tour featuring the likeness of Elvis Presley prepares to take the UK by storm, we take a look at seven icons of the music world who managed to give high profile performances... despite being dead.
1. Elvis Presley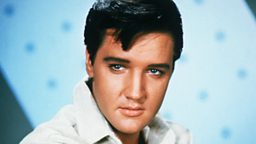 Elvis Presley | Photo by Bethmann / Getty Images
Born: 8 January 1935
Died: 16 August 1977
Performed Again: 14 April 2007
While The King is about to tour UK stadiums by featuring footage of him singing backed by the Royal Philharmonic Orchestra, his first posthumous performance was over ten years ago.
Thanks to a technology known as rotoscoping, Presley appeared on American Idol in duet with singer Celine Dion to perform If I Can Dream.
2. Tupac Shakur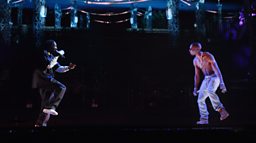 Rapper Snoop Dogg (left) and a hologram of deceased rapper Tupac Shakur perform at the 2012 Coachella Festival | Photo by Christopher Polk/Getty Images for Coachella
Born: 16 June 1971
Died: 12 September 1996
Performed Again: 15 April 2012
Deceased rap superstar Tupac Shakur wowed audiences by joining Dr. Dre and Snoop Dogg on stage at California's Coachella Festival in 2012.
Typically referred to as a hologram, the effect was actually an advanced form of a theatrical illusion using projection and mirrors known as Pepper's Ghost, which has been around since the 1860s.
WARNING: The embedded video of this performance contains very strong language.
3. Nat King Cole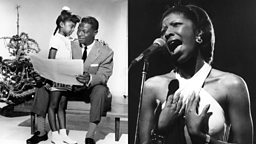 Natalie Cole (right) created an album of duets from her deceased father Nat King Cole's (left, with the young Natalie) recordings | Left photo by Echoes/Redferns; Right photo by Gary Merrin/Keystone/Getty Images
Born: 17 March 1919
Died: 15 February 1965
Performed Again: 11 June 1991
Unforgettable had been a huge hit for Nat King Cole in 1951, but it was also a career highlight for his daughter Natalie Cole, who added her voice to his for a 1991 re-release.
It was the first virtual duet, a practise which is now – for better or worse - commonplace in the music industry.
4. Michael Jackson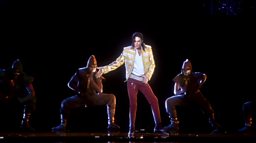 A holographic performance by Michael Jackson at the 2014 Billboard Music Awards. | Photo by Kevin Winter/Billboard Awards 2014/Getty Images for DCP
Born: 29 August 1958
Died: 25 June 2009
Performed Again: 18 May 2014
Michael Jackson led a spectacular performance of Slave to the Rhythm at the Billboard Music Awards in 2014.
The star was completely computer-generated, based on a plaster cast of his face taken at the age of 39. His dance moves, wardrobe and performance were planned by people who'd worked with Jackson, and then meticulously animated by top visual effects companies.
5. Frank Sinatra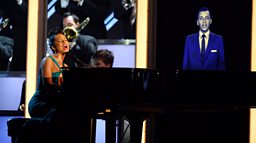 Footage of Sinatra sang with Alicia Keys at the 50th Grammy Awards ceremony in 2008 | Photo by Kevin Winter/Getty Images
Born: 12 December 1915
Died: 14 May 1998
Performed Again: 10 February 2008
Frank Sinatra hosted the 5th Grammy Awards back in 1963; then he opened the 50th anniversary event a decade after passing away.
Audiences were treated to his 1963 opening monologue extolling the virtues of vinyl records, which led into a 'Dead Duet' of Learning the Blues with Alicia Keys.
6. Whitney Houston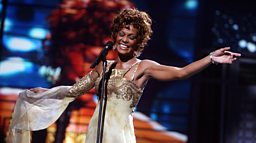 Whitney Houston | Photo by Kevin Winter/Getty Images
Born: 9 August 1963
Died: 11 February 2012
(Almost) Performed Again: 23 May 2016
Whitney Houston was resurrected in hologram form for the US version of The Voice, to sing with Christina Aguilera.
However, after footage was leaked online ahead of the official premiere, the singer's estate cancelled the performance, saying "Whitney's legacy and her devoted fans deserve perfection," and claiming the hologram was not ready to air.
The company behind the hologram, Hologram USA, is currently negotiating a tour using Houston's image with her estate.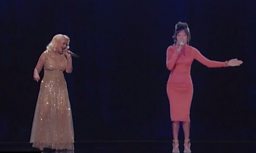 A screenshot of the proposed duet between Houston's hologram and Aguilera. | Courtesy of The Voice
7. Ronnie James Dio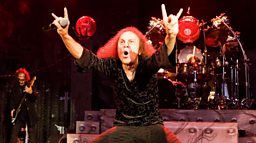 Dio performing with Heaven and Hell in 2009 | Photo by Scott Legato/FilmMagic
Born: 10 July 1942
Died: 16 May 2010
Performed Again: 6 August 2016
Up until now, the technology behind these resurrected superstars have only been possible for one-off performances, but this year heavy-metal legend Dio will become the first deceased musician set to tour in hologram form, after a successful unveiling at Germany's Wacken Open Air Festival in 2016.
The trend shows no sign of stopping, with Roy Orbison, Frank Zappa, and Billie Holiday among the many dead music icons planned for hologram tours in the years to come, and an all-hologram theatre opening up in Los Angeles.
Elvis in Concert: Live on Screen will tour various cities in the UK from 23-30 November 2017. Listen to Front Row's interview with Priscilla Presley about bringing back The King.
The BBC is not responsible for the content of embedded videos.
Arts highlights on BBC iPlayer
Exploring the work of the first black female film director to direct a $100-million film

Highlighting the work of artists with disabilities to mark the signing of the Disabilities Discrimination Act

The Oscar-nominated actress gives a singing masterclass