Main content
The 2020 Shortlist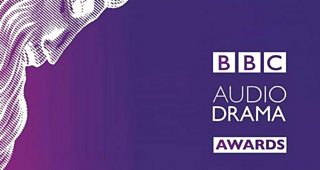 The shortlist for the BBC Audio Drama Awards 2020 has been revealed, with Marcel Proust's In Search of Lost Time, Blackwater: an American Story, Forest 404, Love Thy Synth, Mark Steel's in Town and Suggs: Love Letters to London in contention.
The finalists will be announced on Tuesday 7 January 2020, and the winners at a ceremony in the Radio Theatre at BBC Broadcasting House London on the evening of Sunday 2, February 2020.
The BBC Audio Drama Awards celebrate the range, originality and cut-through quality of audio drama on air and online and give recognition to the creativity of actors, writers, producers, sound designers and others who work in this genre.
Best Actor
Stephen Dillane, Sea Longing, director Karen Rose, Sweet Talk
Edward Hogg, Epitaph for a Spy, director Sasha Yevtushenko, BBC Radio Drama London
Matthew Kelly, Nine Bob Notes, director Gary Brown, BBC Radio Drama North
Joel MacCormack, First Do No Harm, director Jessica Dromgoole, BBC Radio Drama London
Sule Rimi, I Am Kanye West, director John Norton, BBC Cymru Wales
Stanley Townsend, The Macefield Plot, director David Hunter, BBC Radio Drama London
Best Actress
Christine Bottomley, Lullaby, directors Nicolas Jackson and Steve Bond, Afonica
Louise Brearly, The Not Knowing, director Karen Rose, Sweet Talk
Rebecca Front, Love in Recovery, director Ben Worsfield, King Bert
Katherine Kelly, A Badge, director Tony Pitts, Savvy Productions
Charlie Murphy, The Country Girls, directors Sally Avens and Jessica Dromgoole, BBC Radio Drama London
Lydia Wilson, Black Water: An American Story, director Gaynor Macfarlane, BBC Scotland
Best Adaptation
Body Tourists by Jane Rogers, producer Clive Brill, Brill Productions
Black Water: An American Story by Joyce Carol Oates, adapted by Sarah Wooley, producer Gaynor Macfarlane, BBC Scotland
Live and Let Die by Ian Fleming, adapted by Archie Scottney, producers Martin Jarvis and Rosalind Ayres, Jarvis and Ayres Productions
Macbeth by William Shakespeare, adapted by Carl Prekopp, producer Charlotte Melén, Almost Tangible podcast
Marcel Proust's In Search of Lost Time, adapted by Timberlake Wertenbaker, producer Celia de Wolff, Pier Productions
Orlando by Virginia Woolf, adapted by Caroline Bird, Amanda Dalton, Zena Edwards, Hannah Silva and Karen McCarthy Woolf, producer Nadia Molinari, BBC Radio Drama North
Vanity Fair by William Makepeace Thackeray, adapted by Jim Poyser with additional material by Al Murray, producer Gary Brown, BBC Radio Drama North
Best Debut Performance
Mohammed Amiri, Savages, directors Nicolas Jackson and Steve Bond, Afonica
Nadia Clifford, Good News Stories, director Mary Peate, BBC Radio Drama London
Gabrielle Creevy, Found, director Helen Perry, BBC Cymru Wales
George Kent, A Kestrel for a Knave, director Fiona McAlpine, Goldhawk Essential
Sade Malone, Torn, director Gary Brown, BBC Radio Drama North
Abraham Popoola, An Angel in Miami, directors Joby Waldman and Steve Bond, Reduced Listening
Best Director
Mair Bosworth, Deaf Republic, BBC Bristol
Nicolas Jackson and Steve Bond, Savages, Afonica
John Norton, Deacon: Moonlight on Water, BBC Cymru Wales
Mary Ward-Lowery, Talk to Me: HP Lovecraft, BBC Bristol
Celia de Wolff, Marcel Proust's In Search of Lost Time, Pier Productions
Best European Drama
Buzz Suppression – Recording Strictly off the Record by Ulrich Bassenge, producers Ulrich Bassenge, Martina Müller-Wallraff and Anina Barandun, WDR (Germany) and SRF (Switzerland)
Byzantine Soap Opera by Jasna Mesarić, producer Katja Šimunić, HRT Croatian Radio
The Invisible by Jaroslav Havlíček, adapted by Marie Nováková and Renata Venclová, producer Renata Venclová, CZR Czech Radio
The Lesson by Manu Barceló, producer Miguel Deza, Resonar (resonar.org) and Cuonda (cuonda.com), Spain
When the Stars Fall – Life Fragments of Maria Callas by Cesare Ferrario, producer Francesca Giorzi, RSI Italian Swiss Radio Television
Best Original Series or Serial
D for Dexter by Amanda Whittington, producer Mary Ward-Lowery, BBC Bristol
First Do No Harm by Al Smith, producers Sally Avens and Jessica Dromgoole, BBC Radio Drama London
Good News Stories by Katie Hims, producer Mary Peate, BBC Radio Drama London
House Rules by Ben Lewis, producer Kirsty Williams, BBC Scotland
Life Lines by Al Smith, producer Sally Avens, BBC Radio Drama London
Love Thy Synth by Hannah Silva, producers Nicolas Jackson and Steve Bond, Afonica
Undercover Mumbai Series 3 by Ayeesha Menon, producers John Scott Dryden and Nadir Khan, Goldhawk Productions
Best Original Single Drama
Five Rachels by Katie Hims, producer Allegra McIlroy, BBC Northern Ireland
The Invisible by Linda Marshall Griffiths, producer Nadia Molinari, BBC Radio Drama North
Martians by Lucy Caldwell, producer Celia de Wolff, BBC Northern Ireland
The Not Knowing by Dan Maier, producer Karen Rose, Sweet Talk
Red Earth, Red Sky by Janice Okoh, producer Pauline Harris, BBC Radio Drama North
Sea Longing by Elizabeth Kuti, producer Karen Rose, Sweet Talk
Torn by Eve Steele, producer Gary Brown, BBC Radio Drama North
Best Podcast or Online Audio Drama
Forest 404 by Timothy X Atack, producer Becky Ripley, BBC Bristol
Passenger List created by John Scott Dryden, Lauren Shippen and Mark Henry Phillips, Radiotopia/Goldhawk Productions
Rusty Quill Gaming Podcast created by Alexander J Newall, Lydia Nicholas, Helen Gould, Bryn Monroe and Ben Meredith, producers Lowri Ann Davies and April Sumner, Rusty Quill
The Ordinary Epic by Brandon M. Crose, producer Jordan Stillman, Crose to Home Productions
The Verb Dramas on Radio 3 by Allison Davies, Jesse Schwenk, Willow Mirza and Matthew Ingram, producers Emily Demol, Lorna Newman, Sally Richardson and Andrew Smith, BBC Radio Drama North
We're Alive: Goldrush by Kc Wayland, producers Kc Wayland, Brett Newton, Anthony Reyes, Sean Lewin and Christian Vieira, Wayland Productions
Best Scripted Comedy (Longform)
Charles Paris: Star Trap by Jeremy Front, producer Mary Peate, BBC Radio Drama London
Giles Wemmbley-Hogg Goes off… Article 50 by Marcus Brigstocke and Jeremy Salsby, producer David Tyler, Pozzitive
Mark Steel's in Town – the Forest of Dean by Mark Steel and Pete Sinclair, producer Carl Cooper, BBC Studios
Phil Ellis Is Trying by Phil Ellis and Fraser Steele, producer Sam Michell, BBC Studios
Phil Wang: Wangsplaining by Phil Wang, producer Matt Stronge, BBC Studios
Suggs: Love Letters to London by Suggs and Owen Lewis, producer Richard Melvin, Dabster Productions
Best Scripted Comedy (Sketch Show)
Alexei Sayle's Imaginary Sandwich Bar by Alexei Sayle, producer Joe Nunnery, BBC Studios
The Damien Slash Mixtape by Damien Slash/Daniel Barker, producer Matt Stronge, BBC Studios
Dead Ringers by Nev Fountain, Tom Jamieson, Laurence Howarth, Ed Amsden, Tom Coles, Sarah Campbell, James Bugg, Max Davis, Simon Alcock, producer Bill Dare, BBC Studios
The Halloween Skewer by Jon Holmes with Paul Kearney, Davian Dent, Dan Rayner, Alex Rees, 'Mark', Dave Wol, Tony Churnside, Phil Lindsey, Stretchy's Studio, Mike Gilyatt, Beth Granville, producer Jon Holmes, Unusual Productions
Kevin Eldon Will See You Now by Kevin Eldon with Jason Hazeley and Joel Morris, producer David Tyler, Pozzitive
Terry Alderton's Whole Half Hour by Terry Alderton and Richard Melvin with Julia Sutherland, Paul Tonkinson, Steven Dick and Bobby Davro, producers Al Lorraine and Richard Melvin, Dabster Productions
Best Use of Sound
An Angel in Miami, sound by Steve Bond, producers Joby Waldman and Steve Bond, Reduced Listening
Black Water: An American Story, sound by Gary Newman and Mike Etherden, producer Gaynor Macfarlane, BBC Scotland
The Halloween Skewer, sound by Tony Churnside and Jon Holmes, producer Jon Holmes, Unusual Productions
Hello Caller, sound by Michael Harrison and Alison Crawford, producer Alison Crawford, BBC Bristol
The Invisible, sound by Steve Brooke, producer Nadia Molinari, BBC Radio Drama North
Love Thy Synth, sound by Steve Bond, producers Nicolas Jackson and Steve Bond, Afonica